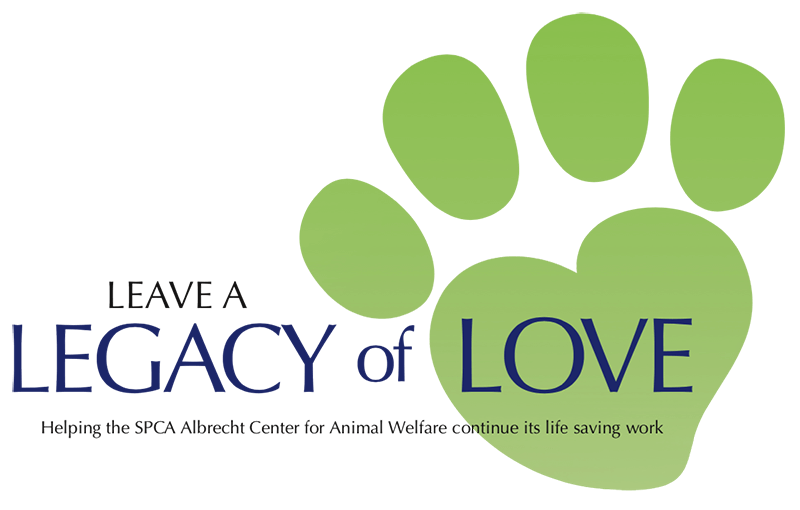 WHAT IS THE
LEGACY SOCIETY
?
The Legacy Society is a group of philanthropic animal lovers who believe in the Vision, Mission, and Values of the SPCA Albrecht Center for Animal Welfare and want to ensure that the Center's work to advance the condition of animal welfare continues.
​MISSION We strive to improve the lives of pets by giving homes to abused, abandoned, and neglected pets while fighting for their well-being through vigorous legislative effort, humane education, and by offering affordable veterinary care for all.
​VISION We envision a world in which every animal has a safe and loving home, access to veterinary care, and where the unfailing love and devotion of pets is reciprocated by humans.
​VALUES
Integrity: Always act honestly, ethically and transparently for the benefit of abandoned, abused, and neglected animals to ensure their highest wellbeing.

Knowledge: Sharing our skills and spreading awareness of our mission to help reduce pet overpopulation.

Commitment: Dedication to Aiken and beyond as a resource center for the community's homeless animals, as well as personal pets.

Respect: Ensure respect for animals' lives through education and action in our community and beyond.
Additionally, members of the Legacy Society may be eligible to participate in the SPCA Albrecht Center's Legacy Society 'Pet Re-homing Program,' which allows for the care and placement of surviving pets.
Have you made provisions for the continued care and welfare of your pets? With a state-of-the-art facility and experienced staff, the SPCA Albrecht Center can help you. Please speak with your attorney about these programs or contact Susan Gainey, Executive Director, at [email protected] or (803) 648-6863 x 2005.
ESTATE GIFTS
CAN INCLUDE:
A set amount or percentage of your estate

An Endowment

Gift Annuity

Life Insurance Policy

Property
I can't promise I will be with you
until the end of your life,
but I can promise I will love you
until the end of mine.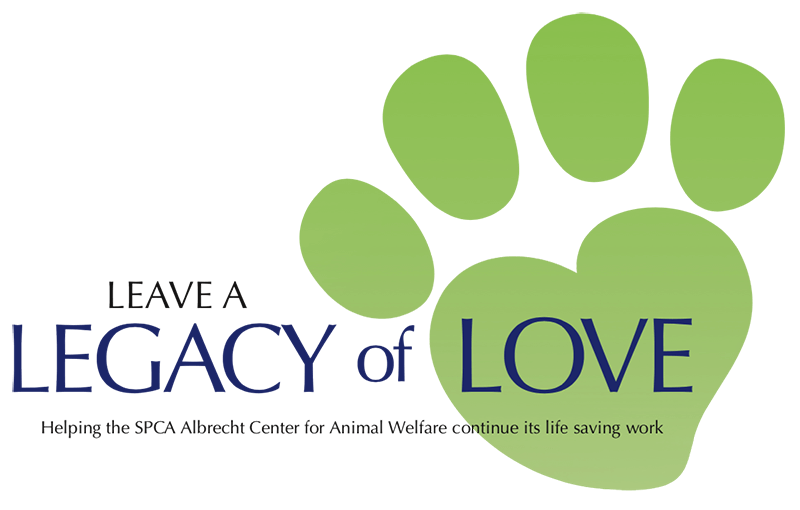 WHO WILL
CARE FOR YOUR PET
?
Our Pet Re-homing Program
for Legacy Society Members
Companion animals enrich our lives with joy, loyalty, and unconditional love. When planning for the disbursement of estates, it is essential to provide for the care and protection of our pets. The SPCA Albrecht Center has the ability and heart to ensure their proper care in the event of the owner's passing.
​Family members often are surprised by the unexpected responsibility of caring for a departed loved one's pet. The pet risks being surrendered to the local shelter when the caregiver finds the unanticipated addition is more expensive or time consuming than they expected. The pet may not be cared for in the manner to which it is accustomed. Worse yet, depending upon jurisdiction and space available, the pet may be forced into a situation where euthanasia is imminent.
​As a member of the Legacy Society you have the option of registering your pet(s) in our perPETual care re-homing program where we will provide care and an opportunity for adoption to a new home where they will live as a cherished pet.
When you pass away, a person of your choosing will contact the SPCA at 803-648-6863 to let us know your pet is being surrendered to the Albrecht Center and to arrange transport.
​Once the pet(s) arrives, it will be placed with an administrative staff person who will notify the Veterinary Care Center. Vaccinations will be administered as a precaution since stress can compromise an animal's immune system, making it more susceptible to illness. The pet(s) will receive a full veterinary exam and be placed in our temporary care until a permanent home, using your criteria, is found; unless you have arranged for temporary care that is different from that described.
​There is no need to worry about emergency situations. Once the pet(s) is enrolled in the program, you will be given a dog tag, key chain and wallet card so that emergency personnel will be alerted to your wishes and can notify your designee or the SPCA immediately.
​For more information about the Legacy Society and the Legacy Society's 'Pet Re-Homing Program,' please contact our Executive Director, at (803) 648-6863.