MEET THE LEADER OF OUR VOLUNTEER TEAM!
Miranda Ewing joined the team at the SPCA Albrecht Center for Animal Welfare in February 2020. She has committed her life to volunteering and fostering homeless animals, and believes the strength of a community shines when we can lean on each other. A 2012-2013 AmeriCorps alumni and Rescue Volunteer for Team Stinkykiss (a local CSRA animal rescue), she is an advocate for all animals and all people! Her family includes her husband, who knows all critters may find a temporary home with him (even if he's allergic to some).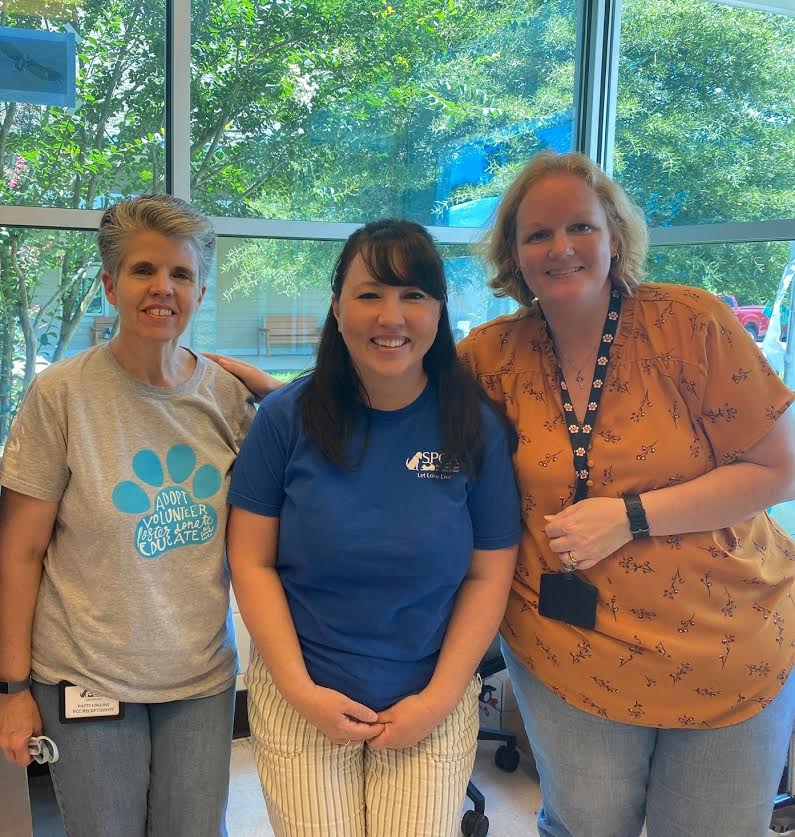 For July's Volunteer Spotlight, the SPCA Albrecht Center would like to recognize Donna Boswell. Donna began volunteering with the SPCA in January and immediately began socializing with the shelter dogs and cats. In addition to supporting the homeless animals, Donna jumped at the opportunity to aid the SPCA Vet Care Center (VCC) with customer service. Having 26 years of experience in assisting the "two-legged patients" at doctor's offices, she knew the importance of the behind-the-scenes of an office's day-to-day operations. The staff immediately noticed Donna's sweet nature and calm demeanor when assisting VCC clients during walk-in clinic hours. She became a shining light during the hustle and bustle of the afternoon walk-in clinic hours.
Photo: Donna pictured with SPCA Vet Care Center Receptionists. Left to right: Patti Collins, Donna Boswell, Missy Salyers
Donna has always had a desire to help all creatures as she explains, "When I was little and living in Korea, my mom would tell me I would try to help all the little, big, slimy… pretty much anything that breathed with four, two, or three legs." As an adult she brought her caring nature to medical offices as receptionist, medical assistant, or assistant manager and now feels volunteering with shelter animals gives her a purpose and satisfaction beyond the daily tasks of life. Particularly in moments one may feel overwhelmed by fellow human-beings, Donna reflects, "animals do not care who you are or where you come from. They just want to be loved."
Not only do the shelter pets welcome Donna, but the team at the SPCA has as well. The receptionists, vet assistants, vet techs, veterinarians, and vet manager all give praise to Donna's hard work, intellect, and amiable personality. The admiration is mutual as Donna looks forward to her Fridays assisting the VCC and leaves feeling uplifted and appreciated. Walk-in clinics are very fast-paced and commands everyone's full attention to ensure every client and pet receive the appropriate services. The SPCA couldn't fulfill the needs of our community pets without the assistance of volunteers like Donna.
Donna also trained to become a volunteer dog walker at the end of February and is currently expanding her knowledge of positive behavior training techniques. A current adoptable dog named Neena-Leena is a staff favorite and has also melted Donna's heart. During the Memorial Day holiday, Donna took Neena-Leena home for a weekend away from the shelter. During her stay, Neena-Leena chilled with Donna's indoor kitties, made a cozy spot on the couch, enjoyed the garden, and sat at Donna's feet to just soak up family life. Donna would like potential adopters to know Neena-Leena isn't a huge fan of walking but would love a family who would encourage Neena-Leena to slowly explore her surroundings, take her on car rides to get ice cream, and give her a safe, loving home to relax in.
Donna has two adult children, Amber and Noah, who bring joy to their mother. At home Donna has six beautiful cats, yes SIX! Miller was the first to join the family when Donna adopted him from an SPCA in North Carolina. Then a black cat meandered up to Donna's house, and this kitty was too adorable to ignore and was soon christened Lucy. But wait, turns out Lucy's big belly had a surprise in store for Donna- three new furry kittens made their debut and settled into the family. All cats were spayed/neutered, and later Donna decided to start a new brave adventure in becoming a kitten foster parent to Zoe. Saying goodbye to a foster can be hard on the heart, and Zoe was destined to complete the family number. There has been a recent human addition as well- the SPCA congratulates Donna on becoming a grandmother! Her beautiful granddaughter, Alyssa, made her appearance on June 22, 2021 and Donna is now retired to fully enjoy her new full-time job as grandma.
The SPCA Albrecht Center greatly appreciates Donna's support and dedication to the shelter and vet clinic! We couldn't meet our mission of serving homeless pets and community pets without your skills and generous heart.