​The SPCA Albrecht Center for Animal Welfare team is here for one reason….
we all share an abiding love and passion for the animals we serve!
We also are here to serve the community and their beloved pets through the services provided by the SPCA Albrecht Center. Please feel free to contact us with your questions and/or concerns. We're here to help!
SHELBY BERNARD
RECEPTIONIST
EMILY GARCIA
CAT CARE SPECIALIST
MICHELLE WILLIAMS
CANINE BEHAVIORIST
EMILY STEPHAN
PET CARE SPECIALIST
SETH QUICK
ADOPTION COUNSELOR
CHELSEA YOUELL
PET CARE SPECIALIST
ISABELLA BERNARD
PET CARE SPECIALIST
KAREN JOHNSON
PET CARE SPECIALIST AND PET PHOTOGRAPHER
JACOB POLLARD
MAINTENANCE, THRIFT STORE DONATION PICKUPS
Henri is often one of the first faces you'll see when entering our lobby. She's friendly, loves treats and back scratches and makes everyone smile.
Henri came to us as a stray in the summer of 2014. Our Shelter Manager immediately fell head-over-heels in love with her and decided to adopt her. Since then, Henri has accompanied Sybil to work daily and serves as our shelter mascot, staff and volunteer motivator and public greeter. ​
HENRIETTA 'Henri' BEANS
GREETER/MASCOT
ASHLEY HOWELL
LEAD VETERINARY ASSISTANT
ZACK HAWKINS
VETERINARY ASSISTANT
PATTI COLLINS
CLINIC RECEPTIONIST
MICHELLE WEIMAR
RETAIL ASSISTANT MANAGER
STEPHANIE JACKSON
RETAIL SALES ASSOCIATE
NIKKI THARPE
RETAIL SALES ASSOCIATE
JENNIFER ANAWALT
STOCK ROOM ASSOCIATE
NATHAN MOSELEY
STOCK ROOM ASSOCIATE
FAITH SALYERS
STOCK ROOM ASSOCIATE
Barbara choose the SPCA Albrecht Center as a charity to spend her time and financial resources on because of the organization's commitment to help animals and the community as well. She likes working with well-organized non-profits that are transparent in their accountability to donors, and that have strong boards made up of diverse, successful people who take their commitments seriously. Helping animals is a selfless effort and a passion she knows the staff, volunteers, donors, and board members all share.
BARBARA NELSON
CHAIR EMERITUS
Russ has been a resident of Aiken, SC since 2006. He spent 45 years managing troubled companies in the store fixture industry. He worked with national retailers in their store design and merchandising concepts.
In 2006, he and his wife Jennifer retired to Aiken when they decided to own and run a restaurant and catering business.
Russ would like to assist the SPCA Albrecht Center in continuing its mission providing a no-kill shelter for adoptable animals.
RUSS RICHARDSON
CHAIRMAN
Lisa is a 1984 graduate of the University of Pennsylvania School of Veterinary Medicine. She has been practicing in Aiken since 1988 and built the surgical/medical hospital, Carolina Equine Clinic, in1993. Lisa is married to George, a Department of Defense contractor, and they have two boys-George III and Alex.
Lisa and her husband also have a two year old wire-haired pointing griffon, named Yemassee, who is also Lisa's running partner. She has watched the SPCA grow into its new facility with pride and looks forward to helping as much as possible.
LISA HANDY, DVM
VICE CHAIR
Robert spent most of his career doing legal, tax and financial work, mostly in the oil and gas industry. Having lived mostly in Texas, Los Angeles and Maui, he and his wife, Patricia, moved to Aiken about 11 years ago. They live in Mallet Hill and are part owners of Outdoor Hands, LLC. Outdoor Hands is proud to support The Lydia Project in Augusta.
His interests are golf, travel, the arts, food & wine and helping others, humans and animals! In addition to animal welfare, Robert and Patricia are also particularly concerned about hunger and children's' medical care.​
ROBERT FINE
TREASURER
OWEN BRAMLETT
SECRETARY
At the end of 2017 Al retired as Board Chair of the SPCA Albrecht Center after four years in that role. His business career spans 56 years including the founding of Interim Healthcare in 1966. He has also served on several NYSE Boards as well as a Director and/or Chair of numerous small public companies and privately held entities.
One of Al's favorite songs is "Bless the Beasts and the Children" sung by Shirley Bassey. The lyrics include….. "for in this world they have no voice, they have no choice". Perhaps that is why his long involvement working for animals without a "voice or choice" with the Humane Society in Broward County, Florida continued with the SPCA after moving to Aiken in 2004. The Sorensen family has always included four legged members which currently includes Pepper, Thumbelina, Henry, Pinkie and Sammy.
ALLAN SORENSEN
Amy and her husband CP own Aiken Saddlery. Amy & CP moved to Aiken from NJ. Amy spent 20 years at Monmouth Park in Oceanport NJ. She competes her OTTB in jumper shows on the east coast. They have 2 dogs and three chickens.  Through their business, Amy & CP support many local charities and strive to help the Shelter with its mission.
AMY HEBERT DOREMUS
CP and his wife Amy moved to Aiken 8 years ago. They purchased Aiken Saddlery and have made Aiken their home. CP ran a successful medical call center in northern New Jersey and now is happy to call Aiken home. They live close to downtown with 2 dogs and 3 chickens.  In addition to running Aiken Saddlery CP owns real estate in downtown Aiken. He is a dynamic volunteer to the SPCA.
CHARLES "C.P." DOREMUS
​Both Steve's father and grandfather worked for the SPCA Albrecht Center for Animal Welfare for many years. As lifelong animal lovers, Steve lives on a six-acre farm with two horses and four dogs, one of whom is a three legged Labrador named Lacey.
In addition to serving on our board, Steve is very active in the community and is a member of the Aiken Chamber of Commerce and the Rotary Club of Aiken. He is the owner of Auto Tech, Inc. here in Aiken.
STEVE YOUNG
TED CUMMINGS
MICHAEL SULLIVAN
​When Pam was little, she thought that she could talk to animals, and that they would talk back. Pam loved all kinds of animals. Living in the South, she has become even more aware of the urgency in finding homes for animals in need. Pam believes this can be achieved through education, marketing and partnering with the animal-loving public. She hopes that involvement with the board of the SPCA Albrecht Center will give her a chance to help make Aiken a safer and better place for animals of all kinds.
Pam lives on a farm in Wagener with a number of horses, dogs and cats, including Chase, who came from the SPCA in early 2007.
PAM GLEASON
​Sharer Dale is a local Real Estate Broker/Owner of RE/MAX Tatterall Group, specializing in Equestrian, Fine and Recreational Properties in the greater Aiken area. She is from Chagrin Falls, Ohio and is an avid Equestrian with a primary focus on show Jumping young horses all the way to Grand Prix. Sharer was moved by the dedication and commitment of the folks at the SPCA Albrecht Center. She has adopted several dogs and assisted in placing numerous others. The day of the ribbon cutting for our new facility she met and fell in love with Nelson, a big, black hound/shepard/dane mix that had been at the shelter for three years. Nelson now lives HAPPILY with his brother, Rubin, a half pitty-bulldog mix, and sister, Maggie (bird dog/jack Russell), along with three cats: Foxy, Prissy & Taylor (SPCA rescue kitties) and six horses at Greystone Farms, on 67 conservation acres on Aiken's eastside.
SHARER DALE
Jack is a native of Atlanta, GA and he can't remember ever not having a dog or a cat in his home, nor ever will.​ He received his bachelors' degree in Mathematics at Georgia State and currently sells real estate in Aiken with the Carolina Real Estate Company. His wife Katie and he (along with their 7 year old – Standard Schnauzer "Sammi" , and 2 year old Giant Schnauzer "Maximus") have been in Aiken since 2007. Jack has always been a proud supporter of the SPCA Albrecht Center, as well as the Aiken Land Conservancy and Hitchcock Woods. Upon first moving to Aiken, his wife spent many years as the Campaign Coordinator to raise funds for the new SPCA Albrecht Center facility.
His hobbies are woodworking, photography, hiking, mountain biking, tennis and golf.
JACK ROTH
Nancy moved to Aiken almost six years ago from Northern Westchester County, NY, when her husband retired from practicing Orthopedic Surgery. She is a Federally Licensed Wildlife Rehabilitator and has been working with and rehabbing birds of prey for almost 35 years. Nancy has a 14 year old registered APHA paint mare, an 8 year old AQHA appendix gelding, four rescued mini-donkeys and two Wheaten Terriers that are 14 yrs old and two years old.
NANCY GOLDMARK
After many years of working in retail stores and retail support sales Russ & Jennifer Richardson retired to Aiken and opened a BBQ restaurant. Upon closing the restaurant Jennifer has enjoyed volunteering at the local SPCA Thrift Store – "Where Shopping Saves Lives."
JENNIFER RICHARDSON
JACKIE KANE
JILL THOMAS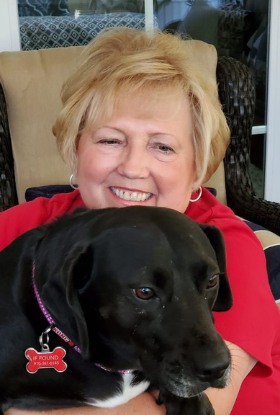 MaryAnn moved to Aiken in May 2015 after retiring from 25 + years in the software consulting business. She joined the SPCA's volunteer group in August of 2015 & enrolled in Phideaux University training. Since that time, she has applied her training to help the shelter dogs become more adoptable by working with behavior issues and teaching them basic commands.  In addition to working with the animals she has also volunteered at fund-raising events, fostered puppies, and writes dog bios for each dog on the adoption floor to help give visitors insight into their personalities. She has two dogs of her own from the SPCA – Opie, black Labrador mix and Ryleigh, a Beagle mix who help her spread the word that they rescued her and that shelter dogs have lots of love to give.
MARYANN WENNEMER
Barbara Ecktman is a huge animal lover and currently has three wonderful rescue dogs (Skye, Dakota, & Taco).  Skye came from a Rottweiler rescue (her mom was a Rottweiler but it is believed her dad was a German Shepherd) and Dakota & Taco came from Team Stinkykiss rescue.   She also has 2 ½ horses:  Heath, Parker and the most adorable mule, Snickers.  Snickers came from Aiken Equine Rescue and is a great addition to her family!
BARBARA ECKTMAN
ELIZABETH CRAIN
EMILY BARBER
SHANE BAGBY