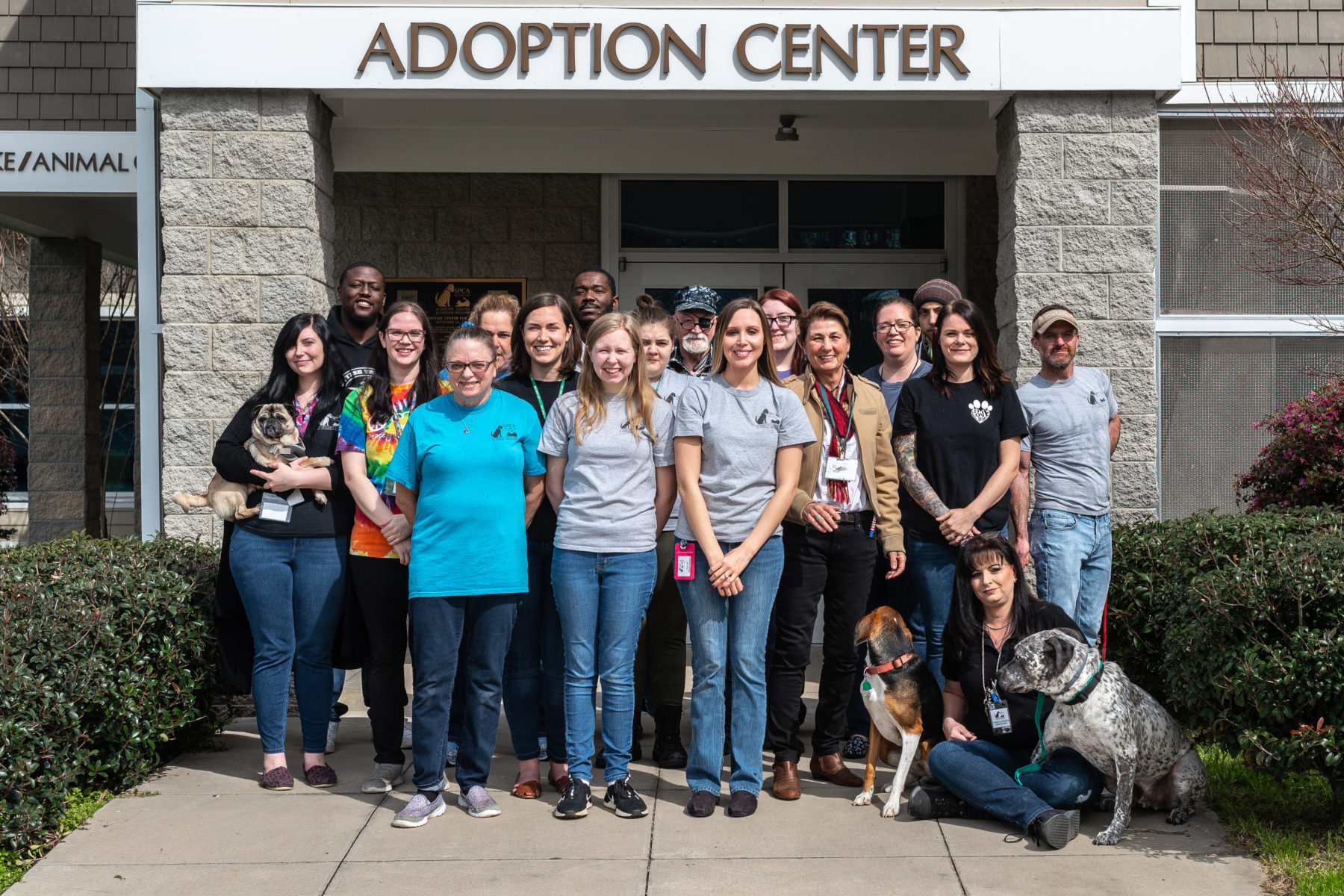 By: Sarah A. Neikam, Operations Manager
This week's article is the start of an eight-part series intended to give our supporters a glimpse into the daily lives of key roles within the SPCA Albrecht Center's organization.
To kick off the series, I decided to start with probably the most popular job in an animal shelter: the animal caretaker. Every shelter has their own job title for this role; we call them Pet Care Specialists. This hands-on, daily animal care position is one of the most physically and emotionally demanding jobs in an animal shelter. Not surprisingly, the position has a high turnover rate.
As an entry-level position, Pet Care Specialist job openings result in a flood of applications. Animal lovers jump at the chance to earn a living working with cats and dogs all day. Ask any of our shelter staff though and they will tell you that the job is much harder than they anticipated. Any one of them can tell you of the literal blood, sweat and tears they put into their work, but how it's all worth it when they see a terrified dog learn to play, or a neglected cat learn to trust and purr in their arms.
But don't take my word for it! Instead, read what a few of our own Pet Care Specialists had to say themselves, when asked about this very hard, but very rewarding job.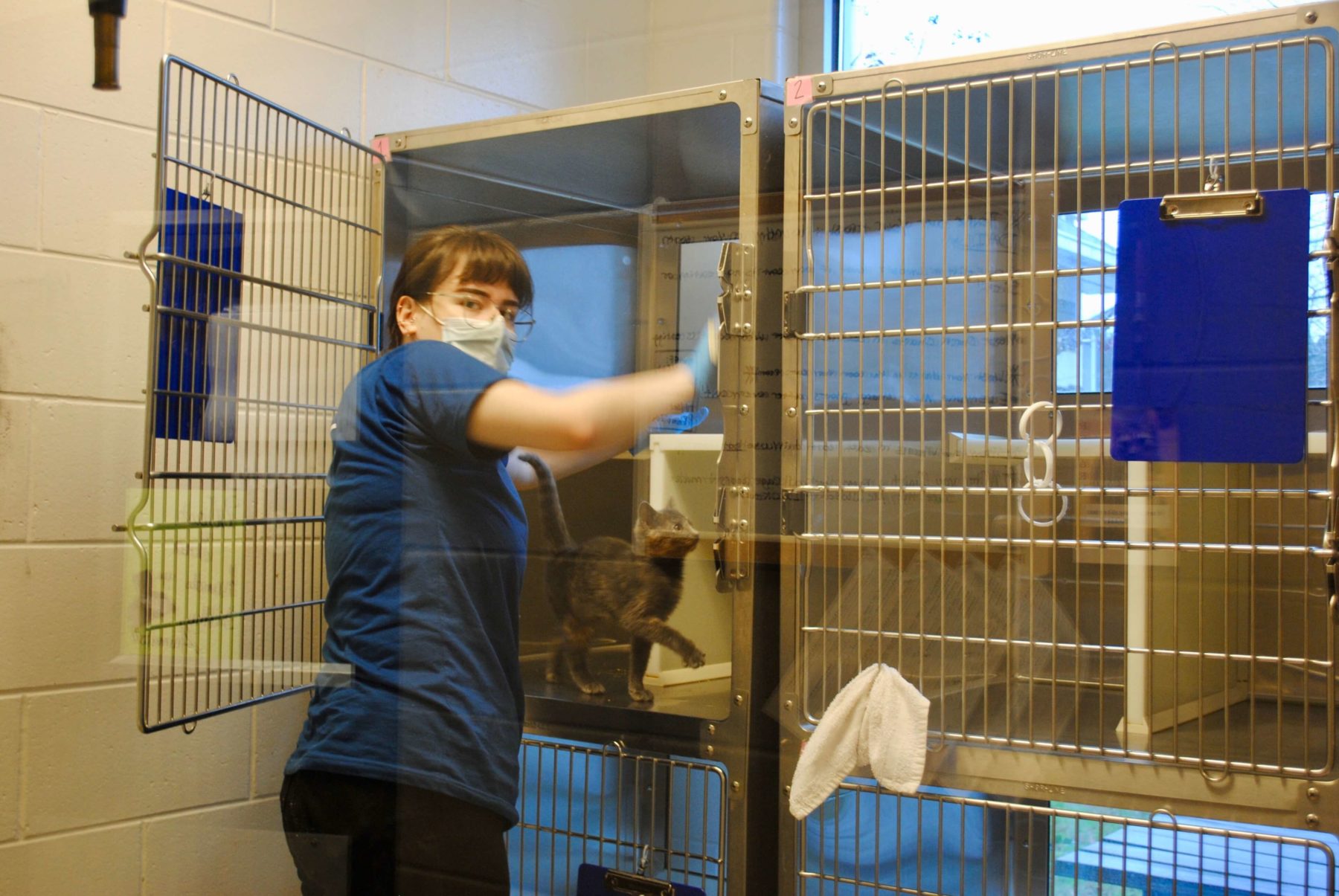 What duties does a typical day in your job consist of?
Feeding, medicating, cleaning, exercising, socializing the animals and trying to find them new homes. Some animals need more time and attention than others; requiring you to be slow and take your time.
We give them clean blankets, fresh water and new toys every day. We work with the animals to make sure they will be able to adjust to a life in a home. Everything you do at the shelter requires constantly keeping your eyes and ears open for your own safety and that of your coworkers, the public and the animals. Thought is put into every animal that comes in; the best environment for them, their likes, personality; strengths, weaknesses and health concerns. They are just like people and are a product of their environment. We talk to potential adopters to make sure the animal they are interested in is a good fit for their home and lifestyle.
What do you most look forward to in a typical day on the job?
Seeing my favorite animals get a forever home. It's sad to say goodbye, they are like pets away from home, but I know they will thrive outside of the shelter environment.
Seeing the shy animals and how they've begun to open up.
Learning about each animals' personality so that I can work with them in their comfort zone.
They drive us a little crazy sometimes, but when we know that they are happy and they show it back to us, it just pushes us to keep going.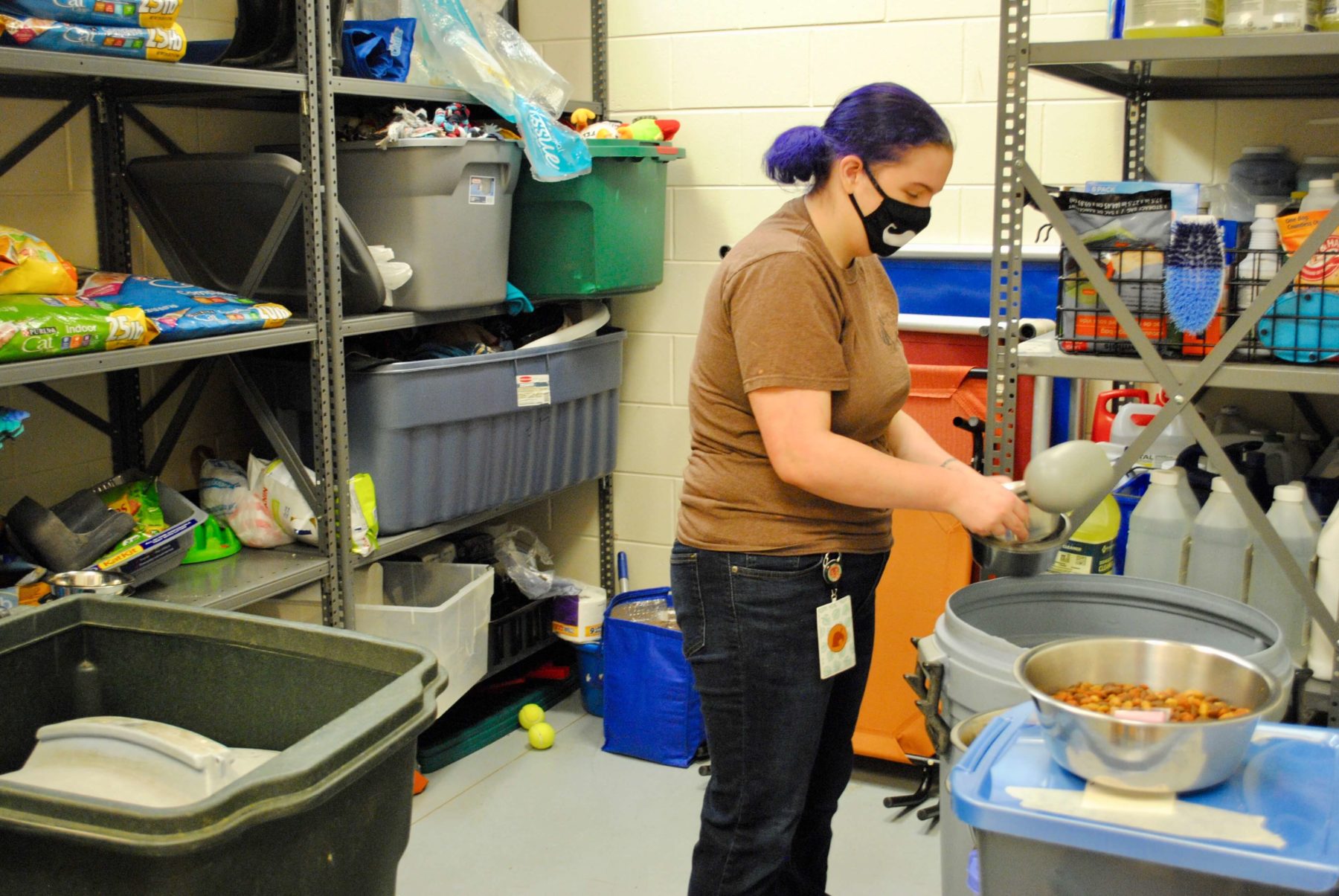 What do you most dread in your job duties?
Pet surrenders. What owners don't see after they leave is how upset and emotional their pet becomes; not understanding what they did to be left in a shelter. It's heartbreaking to see them curled up in a ball with their head down until they trust us to touch them.
Seeing an animal suffer as a result of a person's negligence. If you get an animal you need to have the mindset of caring for them for their entire life.
What have you learned in this job?
I've learned how to interact with both cats and dogs; see signs of sickness; give medication and why; to read body language; and that they all have their own personalities and want to be loved.
I learned about FIV & feline leukemia and many other cat viruses to be cautious about.
It has taught me how to understand people and their relationships with animals.
It saddened me to learn that animal shelters were at the bottom of the priority list of most government agencies. There is just not enough money to properly care for and treat all the animals that need our help. But there are plenty of great citizens who are willing to support our cause.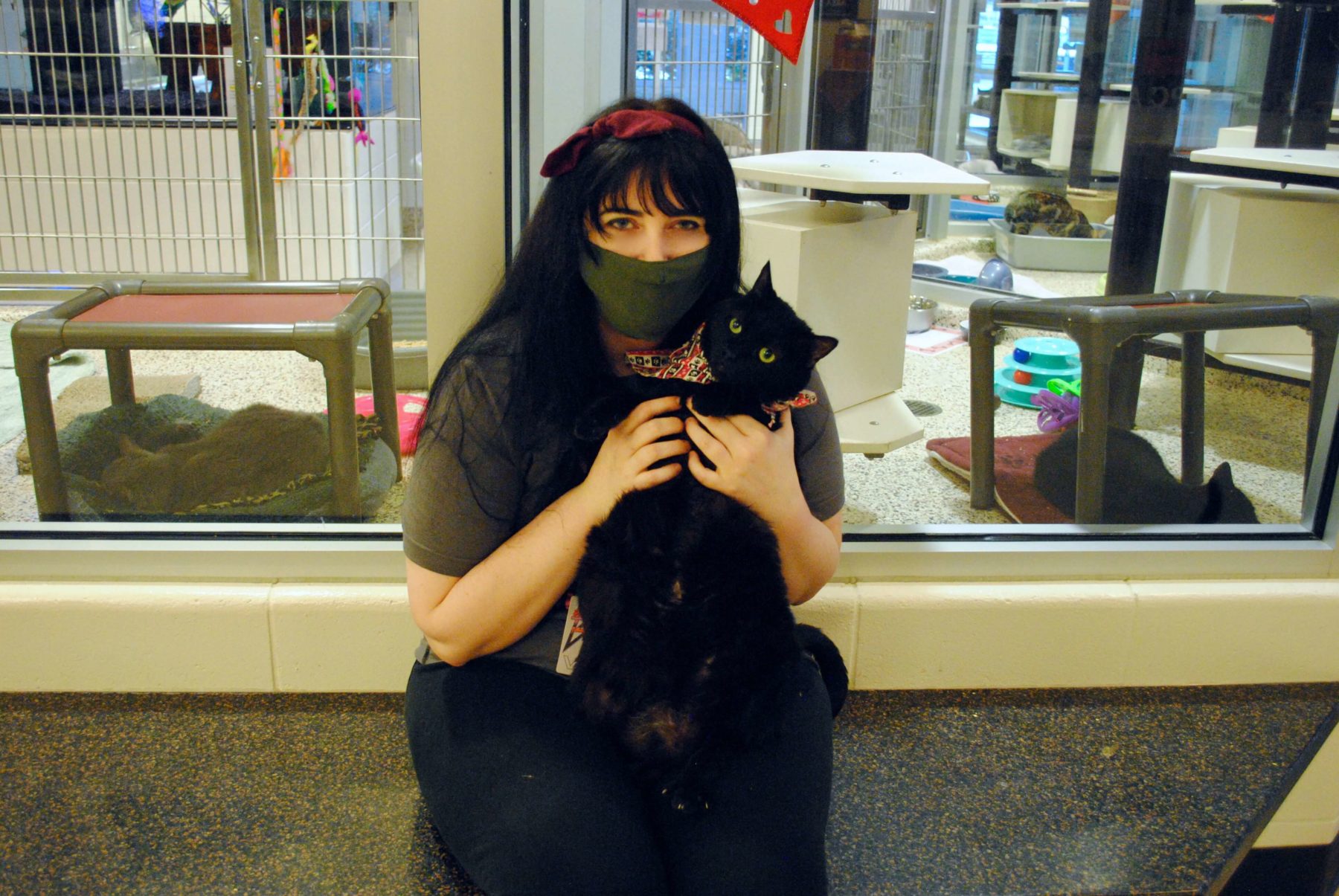 What's your advice to someone considering this job?
It's not enough just to love animals; we don't just play with cute puppies and kittens all day. You really have to have a passion for it and you need to be tough; there is a lot of physical work and it can be exhausting during busy seasons and sometimes you can do everything in your power and it still won't be enough to save some. But it is rewarding when we know that we did what's best for the animals and the most rewarding part is what they give back to us when we help them.
Thanks to these SPCA Albrecht Center staff members for their comments in this article: Emily, Director of Cat Services, and Pet Care Specialists Caitlin, Lyndsey Leitch, Nicole Rabun and Emily Stephan.
Stayed tuned for the next article in this series, "A Day in the Life of an Animal Control Officer."
---
Sarah Neikam has been with the SPCA Albrecht Center since 2012 serving first as Volunteer Coordinator, then Digital Media Manager, followed by Marketing Director and now Operations Manager. Sarah lives in Aiken with her husband Tom and their three adopted cats: Bastian, Luna and Grady plus three "former feral" cats: Willow, Big Boy & Phoebe.
---
The SPCA Albrecht Center for Animal Welfare is a private, nonprofit, no kill animal shelter in Aiken, SC.  The SPCA also operates a local Thrift Store ("Where Shopping Saves Lives"),  a public, affordable Veterinary Care Center & a Dog Park.  It is our mission to improve the lives of companion animals by rehoming abused, abandoned, and neglected pets while fighting for their well-being through vigorous legislative efforts, humane education, and by offering affordable veterinary care for all.
WANT TO SUPPORT OUR HOMELESS ANIMALS?