By: Sarah Neikam, Operations Manager
If you've ever considered volunteering in an animal shelter, but you weren't sure what the experience would be like, this article is for you. I recently chatted with two volunteers about their duties at the SPCA Albrecht Center, in order to describe the experience.
Cathy Pitts is a retired teacher and has been volunteering since 2020. "I have always loved animals. I've grown up with pets, several were rescues, and when I retired from teaching one of the best pieces of advice I got was to have a schedule and fill it with activities that you love. I have not regretted it at all, it's been fun."
Photo: SPCA Volunteer Cathy Pitts with Sassy, former shelter cat who was adopted along with her bonded companion, Sammy, last year.
Cathy volunteers her time with the Cat Care team. "In that role I support the Pet Care Specialists with cleaning up after the cats, feeding them, and cleaning litter boxes. I also help with cat socialization, so sometimes after cat care, I hang around and love on the cats. I also help with dog walking, or if the dog is fearful and I'm not sure about taking them outside, I'll just sit in their room with them. Besides cats and dogs, I've also made treat bags for the Veterinary Care Center's clients and helped with laundry. Cat Care is my favorite, though, because I feel most confident in that job."
When asked about the most difficult part of volunteering, Cathy said "When an animal who was adopted out gets returned [to the shelter]." And "when we lose an animal. I always appreciate Miranda [Director of Volunteer Services] because she calls if she knows we've been hands-on with an animal."
I asked Cathy what she's learned since becoming an animal shelter volunteer and she explained that she's become a lot more confident in animal care because of her volunteer experience "interacting with animals not your own; like when an animal doesn't know you, how to respond to that [behavior]. I've also learned about the TNR [Trap-Neuter-Return] program and the ins and outs of taking animals in [to the shelter] because many times assumptions are made, like that they immediately go out on the adoption floor, but that's not the case. A lot of what I've learned is through Miranda, she gives us [volunteers] opportunities to learn more."
Bill began volunteering with the SPCA Albrecht Center in late 2016, after retiring in 2015 and moving to Aiken with his wife. "I had already looked for places to volunteer… I saw a drone video showing the shelter from above and I thought 'This place looks really cool! It's a big place.'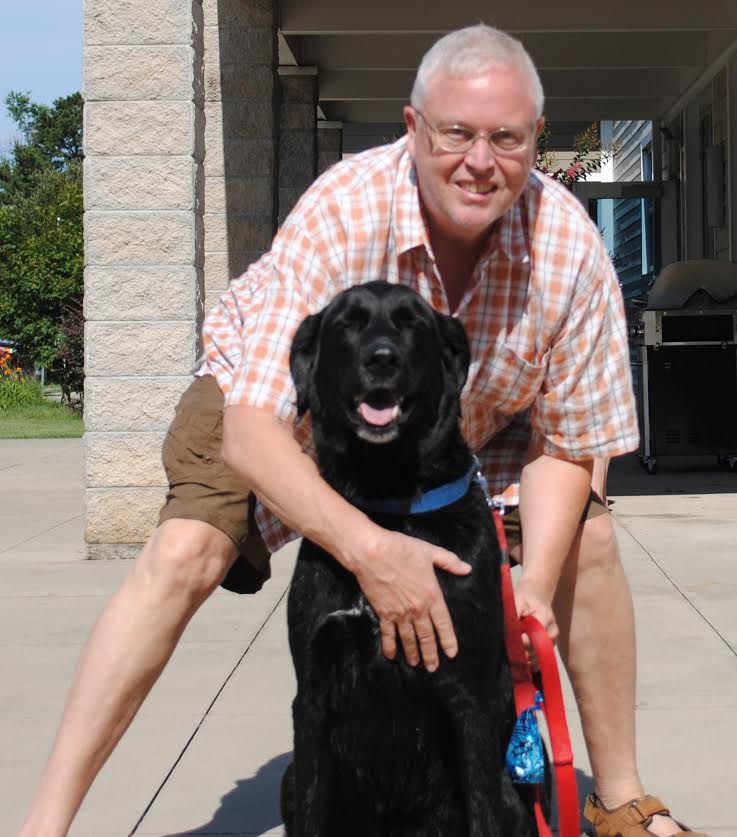 Bill continues, "Everyone I've worked with here has been very, very nice. Everyone is pleasant and says hi and bye. It's a nice place to come to, and they do a great job with communication, so you're as connected as you want to be and never made to feel guilty if you can't show up. You never leave here [the shelter] feeling sorry for the animals because of where they are; maybe for their circumstances, but not because of where they are."
Photo: SPCA Volunteer Bill with his dog, Jasper, who was adopted from the SPCA Albrecht Center.
Bill signed up to volunteer not yet having an idea of how he wanted to help, but he was told that help was needed in Cat Care. "I go from cage to cage to empty litter boxes, change water, feed the cats and spend more time with the ones that look like they need extra attention. I did that until COVID came and my wife and I decided it was best to limit my contact. Once we were both vaccinated, I sent a note [to Miranda] saying I'm ready to go back to work, but my shift had been taken, so they asked if I would be on call to fill-in as a Cat Care person. I think I'm the only male doing it and I think that helps the cats to be comfortable with men too."
Recently, Bill was also asked to help fill Kongs, which are sturdy dog toys that volunteers fill with wet food and treats. Volunteers give the filled Kongs to the dogs as a form of enrichment. Bill mentioned that he was challenged with a stutter as a child and has learned to wrestle with it, but he "was looking for volunteer things where I didn't have to work with the public, so these jobs are great for me. There is probably something in the volunteer realm for everybody."
I asked Cathy and Bill both if they had any advice for someone considering becoming a volunteer. Cathy said "Do it. Be teachable, ask questions and be willing to learn. Watch what the staff are doing and watch what the more experienced volunteers are doing. That's how I've learned and became more confident. And there are lots of ways to volunteer if you don't want to be around the cats and dogs."
Bill's advice? "I would say go for it and don't really have a plan. The truth is when you walk through the door, you don't know the different opportunities that are available. Ask 'what do you need me to do?' Come in with an open mind but don't be afraid to say what you don't want to do, if you don't like dogs or don't want to be around cats."
Are you ready to take Cathy and Bill's advice? Opportunities are available in animal care, retail, customer service, fostering and more. Visit LetLoveLive.org/volunteer to get started!
---
Sarah Neikam has been with the SPCA Albrecht Center since 2012 serving first as Volunteer Coordinator, then Digital Media Manager, followed by Marketing Director and now Operations Manager. Sarah lives in Aiken with her husband Tom and their three adopted cats: Bastian, Luna and Grady plus three "former feral" cats: Willow, Big Boy & Phoebe.
---
The SPCA Albrecht Center for Animal Welfare is a private, nonprofit, no kill animal shelter in Aiken, SC. The SPCA also operates a local Thrift Store ("Where Shopping Saves Lives"), a public, affordable Veterinary Care Center & a Dog Park. It is our mission to improve the lives of companion animals by rehoming abused, abandoned, and neglected pets while fighting for their well-being through vigorous legislative efforts, humane education, and by offering affordable veterinary care for all.
WANT TO SUPPORT OUR HOMELESS ANIMALS?