From the moment their paws enter the doors of the
SPCA Albrecht Center
, all we hope for the homeless animals in our care is a loving, forever home. Sometimes, potential adopters are ready to
adopt
and know exactly what kind of animal they are interested in adding to their family. Other times, the connection happens by chance. This is the story of Rio.
Union Agener, a local animal pharmaceutical company and a part of the Brazilian 'Uniao Quimica' drug company, were visiting the SPCA Albrecht Center in October 2019 for a 'Day of Service.' This team, including one of the SPCA's devoted and compassionate volunteers – Susan Birt – and Unian Quimica's CEO – Señor Fernando de Castro Marques – spent the entire day building benches and landscaping the SPCA Albrecht Center.
After a day of hard work, the team received some much-anticipated time with the shelter animals. From loving on the cats to playing with the dogs in their rooms, the group was enjoying some quality time with the homeless animals at the SPCA Albrecht Center, but for one of these animals and one of Union Agener's team members, the day would become something much more special.
Gisa, one of Union's employees, recalls the day she fell in love with one of the shelter pets, "We went to see the dogs. We were allowed to go inside [their rooms], and when I passed the door he was just sitting there. I decided to go in there with him and I tried to play with him, but he just stayed sitting close to me and put his head in my lap." And the rest is history.
Gisa returned a couple days later with her husband, son and in-laws to revisit the SPCA dog that won her heart. That day, they adopted him and took him to his forever home.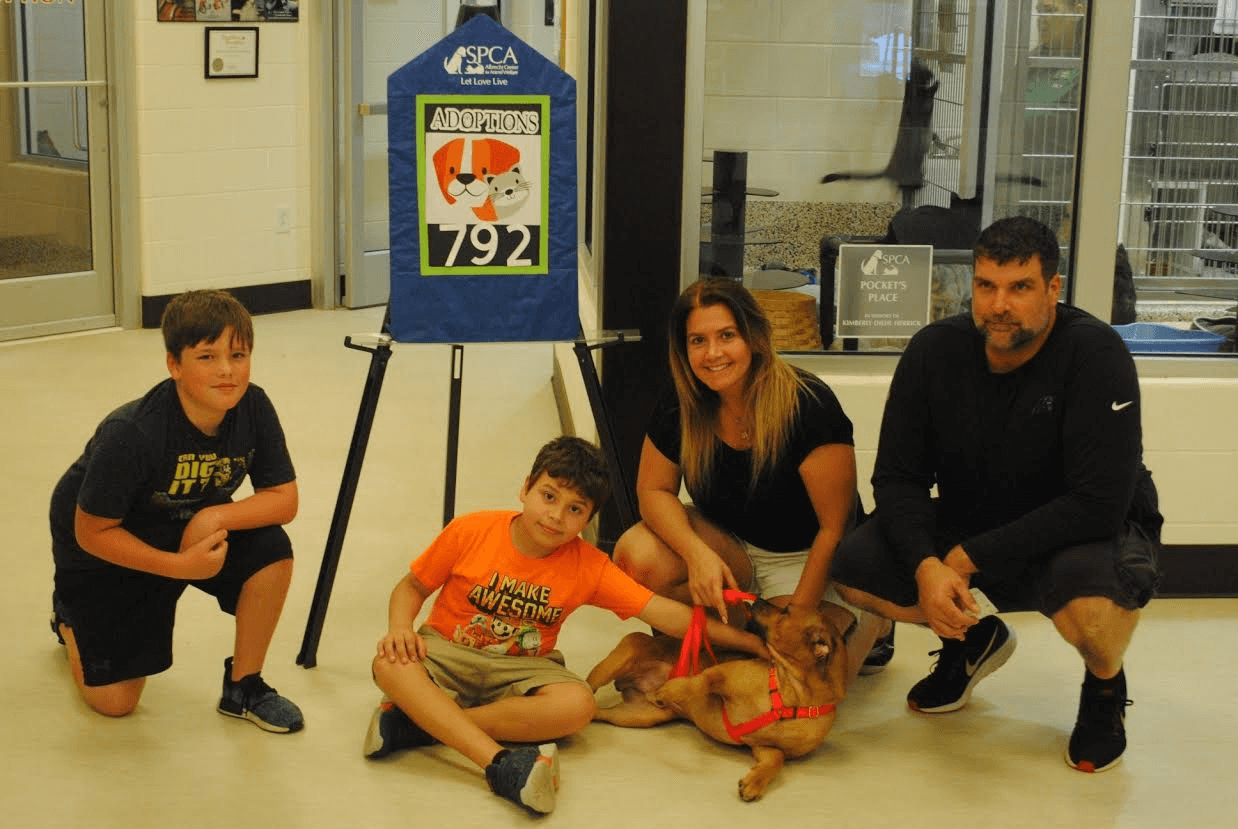 Originally hailing from Rio de Janeiro, Brazil, Gisa and her family chose to honor her birthplace by naming their new companion 'Rio.' For the past six months, Rio has quickly settled in with his new family. "He's really, really friend," Gisa says, "He always needs to be touching. When he's on the couch with us, he needs his entire body on top of us, and he sleeps with my son at night."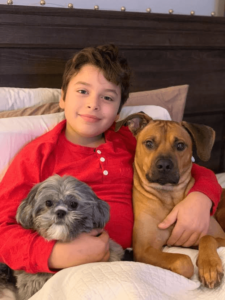 In Rio's new home, he even has two dog siblings – a German Shepherd/Rottweiler rescue and a Shih Tzu. During our interview, Gisa explained that Rio and the German Shepherd/Rottweiler mix are kept separate in the home, as they didn't quite 'hit it off.' Luckily, she understood that shelter animals come from unknown pasts and dogs have personality preferences like humans. Simply put, "Helping dogs is not new for me," Gisa explains. Instead of returning Rio to the shelter, she and her family have used the past six months to make sure all of their furry companions are happy and stress-free, and it's working!
The adoption happened by chance, but the outcome was just as sweet. Thank you to Gisa and her family for following their hearts and giving Rio his forever home, and thank you to all of our adopters for giving a shelter animal a second chance.
Happy Tails, Rio!
Do you have a follow-up story about a companion adopted from the SPCA Albrecht Center? We'd love to hear it (it's our favorite part of the job)! Please submit your stories to: LetLoveLive.org/Happy-Tails.
Interested in opening your home to a shelter animal in need? Visit the SPCA Albrecht Center at 199 Willow Run Road in Aiken; Monday through Saturday from 11am to 3pm, or visit LetLoveLive.org/Available-Pets to see our current, adoptable friends.
An Aiken native and self-proclaimed cat lady, Claire Roberson is the SPCA Albrecht Center's Communications Director, working in marketing, grant writing and media correspondence. She attended College of Charleston, where she graduated with a degree in Nonprofit Business and interned with Charleston Animal Society, the leader in No-Kill South Carolina. When not working, you can find Claire hanging out with her 18-pound Maine Coon mix, Anakin.