By: Sarah A. Neikam, Operations Manager
The 2016 presidential campaign season has proven, perhaps more than ever, just how different American points of view can be, and how passionately, sometimes detrimentally, we stand for and against the people representing those views.
The differences among republicans and democrats, conservatives and liberals, can be numerous and include much more than red, blue, right and left. The differences also extend outside of the political scene, even into the animal world.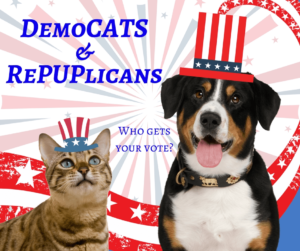 No, I'm not talking about elephants and donkeys, I'm talking about our very own companion animals: cats and dogs. You may be surprised, or not, to learn that studies have shown Democrats to more likely be cat people, and Republicans to prefer dogs.
According to a 2012 report by the American Veterinary Medical Association[1], red states including Alabama, Kentucky, Mississippi, Missouri, Oklahoma, Tennessee, Texas and West Virginia showed the highest percentage of dog owners. Blue states, including Maine, Oregon, Vermont and Washington showed the highest percentage of cat owners.
Dog ownership numbers for our home state weren't available, but I think it's fair to assume, with our citizens' political inclination and large rural areas, that the percentage is quite a bit higher than that of cat owners. South Carolina showed just 27.8% of households with pets to be feline families. This is certainly reflected in our own shelter's adoption numbers. So far this year, the SPCA Albrecht Center has adopted out just over 300 cats, versus just under 400 dogs.
The report did not offer pet preference information for independents and people whose views fall somewhere in the middle of the political realm, but I imagine that just like their voting decisions, their choice of animal companion depends on the candidates available to them, or, like me, they prefer both species.
The information in this study may not be news to many of you, but this finding may be: In America as a whole, dogs aren't necessarily still man's best friend. Nationwide, there are about 70 million pet dogs, versus 74.1 million pet cats.
So, what does this all mean? Well, we can each interpret the numbers in different ways, or as resulting from different factors, such as access to outdoor areas for pets and how much time owners are able to spend at home caring for them.
One thing the report shows in common between the two groups, is that fewer cats and dogs are visiting a veterinarian on a regular basis. There was an 8% increase in the amount of family dogs that were not seen at all by a vet, and an unfortunate 24% increase for family cats that had not been seen by a vet.
This is discouraging information, but the SPCA's Veterinary Care Center is here to help. Our doctors and staff offer complete, quality veterinary care at affordable prices. Care Credit is accepted and payment plans can be arranged on a case-by-case basis. Visit www.LetLoveLive.org/vet-care or call 803-648-6863, ext. 1 for more information.
Whomever your chosen candidate may be, and whether or not they win the election, I think we can all agree to a sense of relief that the campaigns are over. And as animal lovers, whether your preference be canine or feline, I know we can all agree to come together when the issue is keeping them safe, healthy and happy.
If you'd like to prove the report's findings right, or wrong, by adopting a pet according to or going against your political affiliation, we have plenty of DemoCATS and RePUPlicans to go around. Meet all of the candidates campaigning for a seat in your home at 199 Willow Run Road, in Aiken. Adoption hours are Monday – Saturday, 11:00 am until 5:00 pm. See them online at www.LetLoveLive.org.
[1] https://www.avma.org/News/PressRoom/Pages/TopBotomTenStatesForPets.aspx
Sarah Neikam is the Communications & Marketing Director for the SPCA Albrecht Center for Animal Welfare. She is an Aiken native and has been with the SPCA since 2012. Sarah lives in Graniteville with her husband, Tom, mother, Cheryl and three adopted cats: Bastian, Luna and Grady.
---
The SPCA Albrecht Center for Animal Welfare is a private, nonprofit, no kill animal shelter in Aiken, SC.  The SPCA also operates a local Thrift Store ("Where Shopping Saves Lives"),  a public, affordable Veterinary Care Center & a Dog Park.  It is our mission to improve the lives of companion animals by rehoming abused, abandoned, and neglected pets while fighting for their well-being through vigorous legislative efforts, humane education, and by offering affordable veterinary care for all.
WANT TO SUPPORT OUR HOMELESS ANIMALS?