By: Claire Roberson, Communications Director
Falling in love with an animal is easy, and it can happen quickly, much faster than you might expect. Especially when that animal comes from a less-than-ideal situation and they are relying on you for safety, food, and compassion. A bond is almost always unavoidable.
Multiply that love by days, weeks, or months of daily care and interaction, all with the intent of saying goodbye. Animal shelter and rescue workers, volunteers and fosters do this every day.
A core part of our mission at the SPCA Albrecht Center is "to improve the lives of companion animals by rehoming abused, abandoned, and neglected pets," so saying goodbye, though difficult, is ultimately the goal. But that goodbye is so much easier to bear when we receive updates from adopters.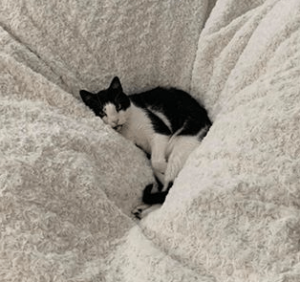 Last week, we received a
Facebook
message from a family who adopted a cat named Chi Chi almost a year ago. Chi Chi came to us originally in 2015 as an owner surrender, was adopted a few months later, only to be surrendered to us again in 2018. After partnering with Communications Director, Claire Grimes in
Jackson Galaxy's Cat Pawsitive
program, Chi Chi learned some behaviors that got her noticed and adopted again, this time to a fantastic family who loves and spoils her. She's now living her best cat life in California! Chi Chi's adopter says, "she's still the most lovable cat I've ever known and still gives the best hugs."
We call these adoption updates 'Happy Tails' and post them on our website when permitted to do so and share them with our staff, volunteers and supporters through our email and social media platforms. They mean so much to the people who saw these animals at their worst and most afraid and helped give them a second chance at a better life.
When looking at photos of the many pets she's helped care for as a Pet Care Specialist and Pet Photographer at the SPCA Albrecht Center, Karen Johnson said "I wonder every day about these faces. The Pet Care Specialists are hands on with these animals every day. It is impossible for me not to get a little attached, but I know I can't possibly keep them all. This is why I care for them to the best of my ability until they find their forever home. I think of these animals as my temporary pets and think they deserve the best life. They don't understand why they are in a shelter and I feel it is my job to try and make them feel as safe as possible."
Cat Care Specialist, Emily Garcia has seen thousands of cats and kittens come and go through the
SPCA Albrecht Center
's doors throughout her years of dedicated work. Each feline leaves an impression and I'm sure if asked, she could recall a detail about each of their individual personalities. "It's very important to me to receive updates about my cats that go home because while they are here, they
are
my cats. I literally feel like I am each one's mother. When they leave here, I still think about them and worry about them. I am always so relieved to hear that a cat I loved is safe and happy in their new home. This is especially true for the senior cats, special needs cats or my bottle babies. I worry about them being let outside, if they're getting too fat, if they're getting enough attention. Updates mean a lot to me."
They mean a lot to 'Adoption Center' Receptionist Shelby Bernard too, though when asked to put her experience into words, Shelby had to temper her emotion and simply say "I spent all this time on this animal, I just want to know it's alive."
Thankfully, the updates we receive tell us far more than that. Most of them come with a story and at least one photo of the pet enjoying their new life.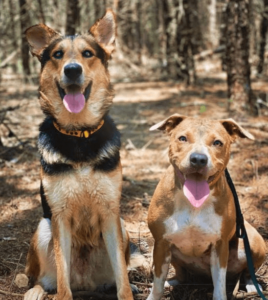 Brittany and Seth, who adopted Bananas (who was returned FOUR times!), recently said "She is an energetic girl, but she is so willing to learn, not to mention, smart and sweet and so full of personality! It's like she was made for us." They included pictures of Bananas with her new family, smiling the biggest smile a dog could have.
Sometimes the updates come from the pet themselves, like this one from a cat who was adopted by Brenda Fleetwood: "Do you remember me, 'Night'? Well now my name is Felix Night Smith. I am really getting used to my new home and getting lots of hugs, kisses, and naps. I am so happy here."
Every update is a gift and means more than you can imagine to the person who bonded with that pet in the shelter. You can see all of our 'Happy Tails' adoption updates on our website at LetLoveLive.org/happy-tails.
If you've adopted a pet from the SPCA Albrecht Center, please make our day by letting us know how they're doing. And for goodness sake, if the pet you adopted was cared for by Shelby, just let her know it's alive.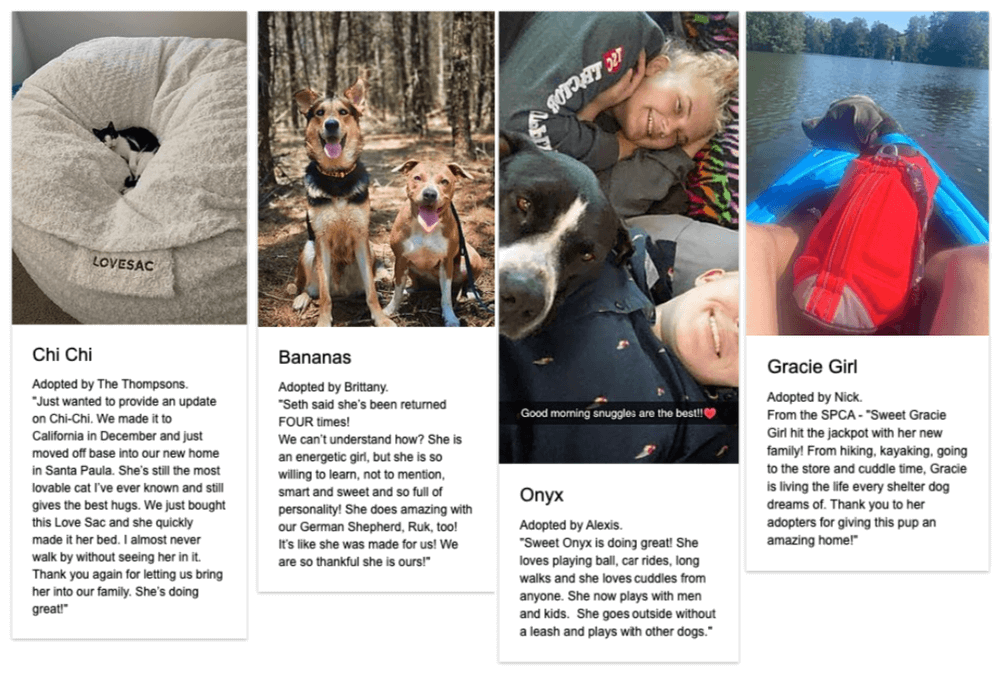 An Aiken native and self-proclaimed cat lady, Claire Roberson is the SPCA Albrecht Center's Communications Director, working in marketing, grant writing and media correspondence. She attended College of Charleston, where she graduated with a degree in Nonprofit Business and interned with Charleston Animal Society, the leader in No-Kill South Carolina. When not working, you can find Claire hanging out with her 18-pound Maine Coon mix, Anakin.
---
The SPCA Albrecht Center for Animal Welfare is a private, nonprofit, no kill animal shelter in Aiken, SC.  The SPCA also operates a local Thrift Store ("Where Shopping Saves Lives"),  a public, affordable Veterinary Care Center & a Dog Park.  It is our mission to improve the lives of companion animals by rehoming abused, abandoned, and neglected pets while fighting for their well-being through vigorous legislative efforts, humane education, and by offering affordable veterinary care for all.
WANT TO SUPPORT OUR HOMELESS ANIMALS?