By: Sarah A. Neikam, Operations Manager
Last week, in anticipation of Hurricane Matthew,
Charleston Animal Society
worked to make room in their shelter as well as the
Francis R. Willis SPCA
in Dorchester County, to care for the displaced and injured pets that could be left in the storm's wake along their coastal communities.
They did this by reaching out to their foster family network, of which over 100 families stepped up to help, and by partnering with other animal agencies to transport adoptable animals to areas further out of the storm's reach. Agencies helping to transport and shelter the animals included the Humane Society of York County and the Humane Society of the United States, who transported 65 dogs directly to their headquarters in Gaithersburg, MD.
The SPCA Albrecht Center was also one of those partnering agencies, transporting 23 adult dogs from Charleston back to our shelter here in Aiken on Wednesday. These dogs are being medically treated as needed, and then placed directly on our adoption floor to hopefully find homes soon.
This transport effort alone is incredible and inspiring, but what amazed me even more last week, was the response from our own Aiken area community.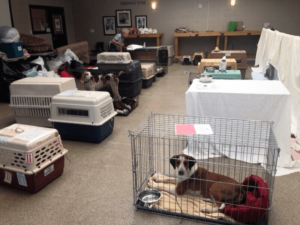 We asked the community to donate or loan dog crates and by the end of the day on Thursday, our large Education and Training room was lined wall-to-wall with dog crates. Enough for the 23 Charleston dogs as well as the limited number of dogs we were boarding for evacuated families.
In addition to dog crates, we asked for donations of pet food. Person after person, family after family, they brought dog and cat food, some brought so much it had to be loaded onto carts to bring into our building.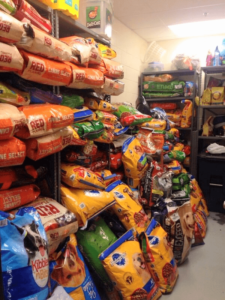 By midday Thursday, our large food storage closet was overflowing with pet food. The shelves were packed and bags were stacked, five or six high, leaving just enough room to walk inside.
People also brought blankets and towels, newspaper to line crates, cat carriers, toys, treats, cleaning supplies and even doughnuts and snacks for our hard-working employees and volunteers.
Each time I walked into our lobby, I saw crowds of people coming through the doors. Most were carrying donations, others came to write checks, offer to volunteer or foster, and some came to adopt.
Witnessing this massive endeavor to help pets in need made me so proud to be part of this organization and even more, this community of generous, animal-loving people. If you were part of this amazing effort, thank you.
Now that the storm has passed, the animals in our care will begin to adjust to their new surroundings and our shelter staff will regain their normal, daily routine which will include putting the many donations we received to good use.
If you weren't able to contribute last week, but would still like to help, here are a few ways:
Adopt! If you've been considering adopting a pet, now is a great time to open your heart and home to a pet in need. Every dog and cat in our shelter is waiting for a loving home like yours and every pet adopted opens space for us to rescue one more.

Volunteer!

Committed, reliable dog walkers, cat cuddlers and Thrift Shop workers are needed year-round to help care for the animals and generate funds so we can continue our mission. Visit

LetLoveLive.org/volunteer

for information.

Foster!

Even if we don't need your help right now, we may soon. Temporary foster homes are needed for scared pets who don't adjust well to shelter life, for injured or sick pets in recovery, or for puppies and kittens needing to be bottle-fed. Email

[email protected]

to be added to our list.
Sarah Neikam is the Communications & Marketing Director for the SPCA Albrecht Center for Animal Welfare. She is an Aiken native and has been with the SPCA since 2012. Sarah lives in Graniteville with her husband, Tom, mother, Cheryl and three adopted cats: Bastian, Luna and Grady.
---
The SPCA Albrecht Center for Animal Welfare is a private, nonprofit, no kill animal shelter in Aiken, SC.  The SPCA also operates a local Thrift Store ("Where Shopping Saves Lives"),  a public, affordable Veterinary Care Center & a Dog Park.  It is our mission to improve the lives of companion animals by rehoming abused, abandoned, and neglected pets while fighting for their well-being through vigorous legislative efforts, humane education, and by offering affordable veterinary care for all.
WANT TO SUPPORT OUR HOMELESS ANIMALS?