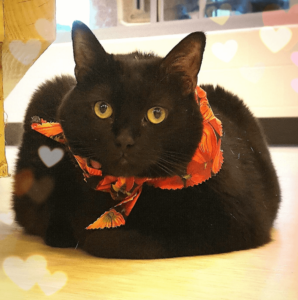 If you are involved in the going-ons of the SPCA Albrecht Center or have visited our shelter, you may know about sweet forever-kitty Bonnie. Bonnie came to the SPCA as an owner surrender in August of 2018 from a loving home. However, it was clear that Bonnie enjoyed her treats (same, Bonnie), as she came to us weighing nearly 29-pounds! This weight made it difficult for her to clean herself or even roam around freely. With careful veterinary supervision, Bonnie was placed on a strict diet plan.
Staff quickly fell in love with this curvy kitty, and the decision was made to adopt her as a shelter cat, where Bonnie still thrives to this day. Staff even started a Facebook page for her, which boasts over 6,500 followers, who enjoy regular photos of Bonnie in her favorite outfits and playing with our other forever-kitty, Regina (Facebook: Bonniethefatcat).
As much as staff, volunteers and her 'fans' adored Bonnie just the way she was, her weight was clearly a health risk. Luckily, with Bonnie's veterinary-recommended diet plan, over the course of two years (cat must lose weight slowly to avoid other health issues like fatty liver), Bonnie lost 13-pounds and is at a tremendously healthier weight of 16-pounds!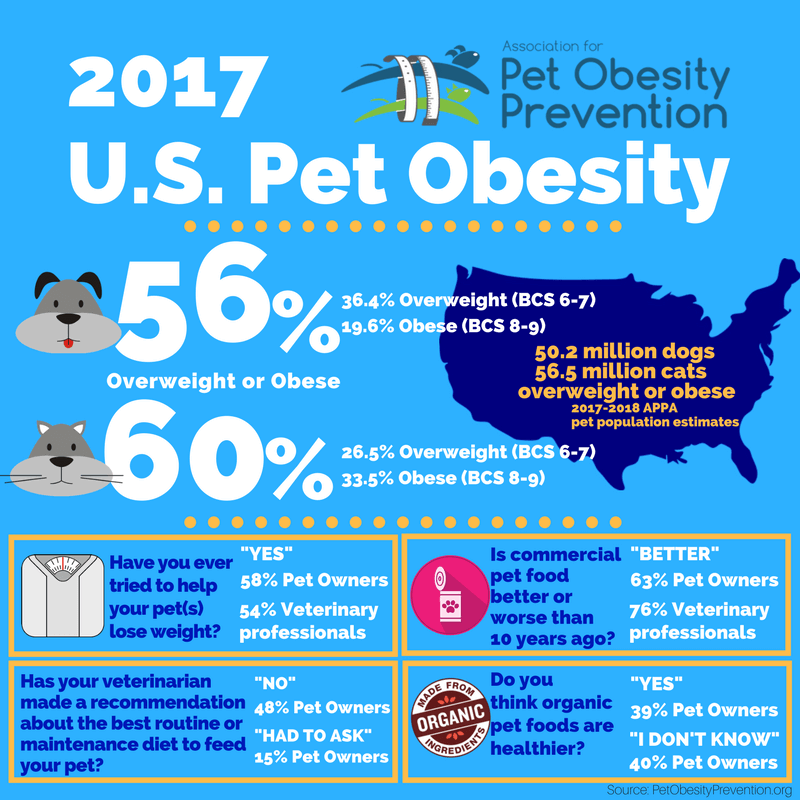 Bonnie is not a rare case of pet obesity. In fact, according to the Association for Pet Obesity Prevention, an estimated 56% of dogs and 60% of cats are overweight in the U.S. alone. These staggering statistics are further confirmed by the increase in veterinary diagnoses of overweight pets. According to Banfield's Applied Research and Knowledge Team, "[obesity] diagnoses have increased 158% in dogs and 169% in cats" in the past ten years.
If you're wondering whether your pet is a part of these shocking statistics, a simple inspection of your pet's body shape may give you the answers you need. Start by feeling their midsection while they are standing. You should easily feel their ribs and spine, though not excessively, and their waist should have a slight hourglass shape. If you notice your pet's body shape is more 'tubular,' it's time to visit your veterinarian (PetMD).
There are many reasons your pet may have packed on the pounds, but it likely boils down to four main causes: (1) Predisposed breed; (2) Preexisting medical conditions, such as hypothyroidism, arthritis, joint issues or Cushing's disease; (3) Feeding methods and type of food; (4) Lack of prevention care, such as exercise (Banfield Pet Hospital).
Side note: It is a myth that spaying or neutering your pet will cause them to gain weight.
Pet obesity is not something to take lightly, as it can result in health issues in nearly all of your pet's organ systems, joints and ligaments. Heart, digestive and respiratory issues, damage to bones and joints, heat intolerance, decreased stamina and liver function, diabetes, digestive disorders, higher risk of cancer, decreased length of life, lower immune function, skin and coat problems and urinary tract infections are all side effects of pet obesity.
If you're nervous that your pet is overweight and on the road to major health issues, do not simply overexercise them or drastically cut their food, which can also drastically cut essential vitamins and minerals they need to live a healthy life. Instead, always consult a veterinarian first about a weight-loss and exercise plan that is unique to your pet's situation.
If you're looking for an affordable veterinarian to assist with pet obesity, or other conditions, be sure to check out the SPCA Albrecht Center's full-service, high-quality Veterinary Care Center. We are dedicated to getting your companions on track for a long, happy and healthy life with you.
An Aiken native and self-proclaimed cat lady, Claire Roberson is the SPCA Albrecht Center's Communications Director, working in marketing, grant writing and media correspondence. She attended College of Charleston, where she graduated with a degree in Nonprofit Business and interned with Charleston Animal Society, the leader in No-Kill South Carolina. When not working, you can find Claire hanging out with her 18-pound Maine Coon mix, Anakin.