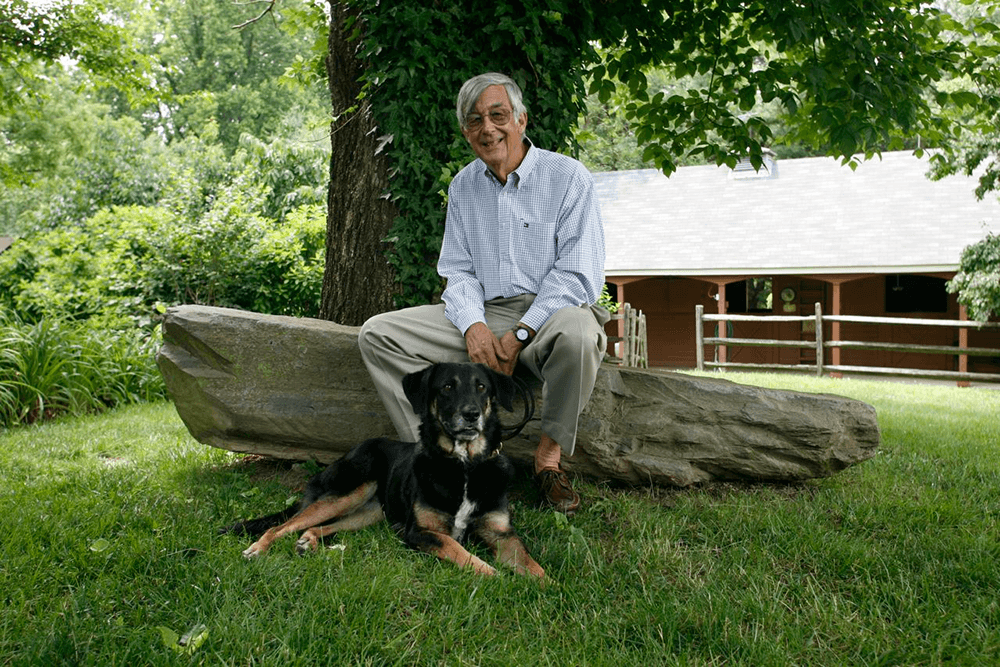 By: Claire Roberson, Communications Director
Shelter dog, Serena, hit the jackpot the day she met her new, loving companions, Steve and Doris Briggs back in 2007. Serena was saved from certain death by euthanasia due to space limitations, when Molly's Militia rescued her. Cue Steve and Doris Briggs, who fell in love with this sweet Black Lab-German Shepherd mix, and gave her the loving, forever home she always deserved. And, in return, the Briggs found a loving, loyal companion to fill their home.
From the moment they saw Serena, Steve and Doris noticed how special this pup really was, and decided to take her on the journey to becoming a therapy dog. Serena attained this goal through the Delta Society, "a human services organization that promotes animals as a way to improve the health of humans," holding the highest level of competency in the program. For the last 13 years, Serena has used her training to comfort challenged children, wounded veterans and shattered souls with her innate ability to calm those she meets.
And, at 16 years of age, Serena is still doing her part to give back to our community.
The Briggs have always recognized Serena's special abilities and decided to find a way to recognize other amazing pets in the CSRA. Thus, the "Serena's Star Award" was born in collaboration with the SPCA Albrecht Center for Animal Welfare. For seven years, we have been working with Steve and Serena Briggs, reading numerous, incredible stories of other remarkable pets and awarding one (or two) of these animals the "Serena's Star Award."
Over the course of this program, awards have been granted to dogs, cats and horses; young and old; certified therapy dog or lifesaving personal pet. Last year, two local companions were honored: Laila Shaia and Romina Hobbs.
Joe Shaia met Laila at the Aiken County Animal Shelter, where she rescued Joe. Laila trained through VK9S, where she learned how to help Joe manage his PTSD. Laila became a trainer to give back to the program. Since 2016, the pair has helped train dozens of teams for VK9S. Laila goes above & beyond by helping struggling students and does CSRA Community Outreach, teaching about ADA laws. In her off time, she takes Joes on outdoors adventures, giving him back his pre-military life.
Adrienne Hobbs got Romina when Romina was 8-weeks-old. For fours years, they have been inseparable best friends, as Adrienne struggles with depression and anxiety. Instead of medicine, Adrienne turns to Romina for comfort and her loyal companion knows exactly how to calm her down when she is anxious. Romina also acts as a 'service dog' for her brother, Paddington, who has epilepsy, by barking whenever she needs to alert their owners that Paddington is having a seizure.
For the past year, these two amazing animals have been recognized with a framed photo on display on the SPCA Albrecht Center's "Serena's Star" wall, located in the Marr Education and Training Center. Now that the year is over, we are seeking two new remarkable pets to crown the 2020 "Serena's Star Award" winners. All you have to do is share your pet's story and you could win $500, sponsored by the Briggs family!
An online application and printable, mail-in application are available online: www.letlovelive.org/serenasstar. Persons nominating are welcome to nominate on behalf of someone else, but please notify the animal's owner of your submission. This quick application simply asks a few questions about the pet and why you would like to nominate them.
There are two categories for submissions: Personal and Professional Pet. "Personal" pets are those that are being nominated for doing extraordinary work in contributing to their person's life. For example, helped them through a hardship, medical condition or life change. The "Professional Pet" category is for military, police, search and rescue, detection and certified service animals.
The winners will receive a $500 check, sponsored by the Briggs family, a framed photo to be on display in SPCA Albrecht Center's Marr Education Center for 2020 (and given to the family before next year's award) and honored at a ceremony on Sunday, March 22nd.
We want to hear your stories! If you have or know a remarkable animal in the CSRA, please share it with us: www.letlovelive.org/serenasstar
An Aiken native and self-proclaimed cat lady, Claire Roberson is the SPCA Albrecht Center's Communications Director, working in marketing, grant writing and media correspondence. She attended College of Charleston, where she graduated with a degree in Nonprofit Business and interned with Charleston Animal Society, the leader in No-Kill South Carolina. When not working, you can find Claire hanging out with her 18-pound Maine Coon mix, Anakin.
---
The SPCA Albrecht Center for Animal Welfare is a private, nonprofit, no kill animal shelter in Aiken, SC.  The SPCA also operates a local Thrift Store ("Where Shopping Saves Lives"),  a public, affordable Veterinary Care Center & a Dog Park.  It is our mission to improve the lives of companion animals by rehoming abused, abandoned, and neglected pets while fighting for their well-being through vigorous legislative efforts, humane education, and by offering affordable veterinary care for all.
WANT TO SUPPORT OUR HOMELESS ANIMALS?