With a brand new decade, I'm feeling a new spark of energy to kick-start some personal goals, and maybe you are too! The New Year always brings motivation into our lives. This combined with the fresh slate of a whole new decade, you may be feeling extra inspired to dust off those personal goals that have been collecting dust on the shelf in the back of your mind. What better way to keep that New Year motivation throughout the whole year than to accomplish your goals with the help of some adorable, furry friends.
Here are some ways you can help our community's homeless and neglected companion animals in the New Year, while accomplishing your resolutions:
Want to start
volunteer
work this year?
Volunteer
with the
SPCA Albrecht Center
and walk some pups or play with kitties in need of enrichment and love! With
volunteer opportunities
ranging from dog walking and cat enrichment to working in our
SPCA Thrift Store
(Mitchell Plaza) and greeting patrons in our
Veterinary Care Center
, there are many opportunities to get involved and work with the community's homeless animals. Whether you
volunteer
an hour a month or an hour every day, every minute makes the world of difference to the animals in our care.
Only have a day or weekend to spare? There are many projects you can do in a day, and even in just a few hours, that can make a difference. Build an insulated house for feral cats during wintertime; make enrichment toys or host a supply drive for your local shelter; have a small food drive for pet owners in need; hold a small fundraiser in benefit of your local shelter. There are hundreds of great ideas of ways you can use your spare time to positively impact our homeless pet population.
Ready to get fit? Come join us on the mat at 199 Willow Run Road on Saturday, January 18th for our cat yoga event – '
Cats on the Mat
.' No experience is necessary and registration is just $10! Sarah Acord from
Aiken Yoga
teaches this unique class, which includes adorable, adoptable kitties roaming the room while you're in downward dog.
Please bring your own mat and we'll provide the cats
.
Want to save money this year? Visit us at the SPCA's Mitchell Plaza Thrift Store, 'Where Shopping Saves Lives,' located at 1589 Whiskey Road to shop boutique, thrift store items! The store carries everything from clothing and jewelry to furniture and pet supplies. Or, bring your companions to our full-service, affordable Veterinary Care Center. Pet care can be expensive, but the SPCA Albrecht Center offers veterinary care to public animals with spay/neuter surgeries, vaccinations, exams and more!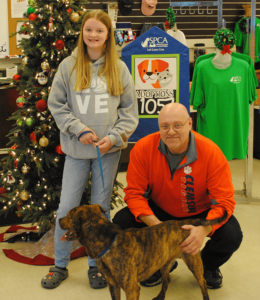 Ready to grow your family in the New Year? Grow it by
adopting
an adoptable animal in need from the
SPCA Albrecht Center
. With over 1,200 animals taken in annually, there is always a special companion waiting for their forever home. Every animal
adopted
from the SPCA Albrecht Center is microchipped,
spayed or neutered
and up-to-date on vaccinations.
Want to contribute to a local charity? The SPCA Albrecht Center is a private, nonprofit organization. Every cent of your donation goes towards saving the lives of our community's most vulnerable by providing veterinary care and supplies to the homeless animals in our care. Whether you donate monetarily or with in-kind supply donations, our animals' lives are changed with your generosity.
There are many ways you can help animals and your local shelter in the New Year. No matter the capacity in which you are able to assist, every bit makes the world a better place for the most vulnerable animals. We hope you will join us in the New Year as we continue our mission of saving lives – we truly could not achieve our mission if it wasn't for all of our incredible supporters. Thank you for making 2019 an amazing year for the animals and we hope you will join us as we welcome a new decade for animal welfare!
SPCA Volunteer Program: www.LetLoveLive.org/Volunteer
SPCA Events, including 'Cats on the Mat:' www.LetLoveLive.org/Events
SPCA Thrift Store: www.LetLoveLive.org/Thrift-Stores
SPCA Veterinary Care Center: www.SPCAVetCare.org
SPCA Available Pets: www.LetLoveLive.org/Available-Pets
Donate & Supply 'Wish List:' www.LetLoveLive.org/Donate
An Aiken native and self-proclaimed cat lady, Claire Roberson is the SPCA Albrecht Center's Communications Director, working in marketing, grant writing and media correspondence. She attended College of Charleston, where she graduated with a degree in Nonprofit Business and interned with Charleston Animal Society, the leader in No-Kill South Carolina. When not working, you can find Claire hanging out with her 18-pound Maine Coon mix, Anakin.