By: Claire Roberson, Communications Director
A couple of weeks ago, the SPCA Albrecht Center started a Facebook fundraiser for a shelter pup named Otis, who had been brought into the shelter seven times since March 2020. His 'offenses' ranged from
being picked up as a stray for escaping from his owner's yard to chewing and other destructive behaviors in his new h
omes as a result of separation anxiety. Naturally, this has left Otis without a home as a hard-to-place pup in our shelter.
Otis' fundraiser was to raise funds for behavior modification training with our friend, Kara Dixon. Kara offers 24/7, in-home training for about two to three weeks at a time to correct deep-rooted behavior issues like Otis'. Her technique has proven effective with a few of the SPCA's past long-term residents, who are now happily in their forever homes!
With your incredible support, and the support of our friends at Project Freedom Ride, who started their own fundraiser for Otis, the fundraising goal was met! Otis has been with Kara for over a week now (she took him early to get a jumpstart on training), and his progress has been amazing:
"Otis has been living with me for about a week now and so far what I know about him is: he's great with dogs, good with cats, loves people and kids, very good in the home (he just wants something comfy to lay on), house trained when schedule is maintained, great with all obedience (come, sit, down, place, heel, no leash pulling) and kennel trained."
As Kara mentioned in her update, Otis is an all-around ideal dog, who loves his companionship with people or furry friends. However, this love of companionship has played into his separation anxiety when he is left alone without any friends to occupy his time, and Otis isn't an exception when it comes to this behavior issue. There are many, many pups who find themselves in a shelter due to destructive behaviors as a result of separation anxiety. From inappropriate urination to howling and barking to chewing or escaping, you may be dealing with a companion that is suffering with separation anxiety.
Whether your pup is anxious as you prepare to leave and/or is in distress once you leave the house, separation anxiety is like any other behavior issue and can be treated or improved.
As per every pet-related issue, it is always best to start with consulting a veterinarian to make sure there is no underlying medical issue. However, if this has been ruled out, the next step is to assess what could be the source of anxiety. Did you adopt a shelter pup or take in a dog from a friend or relative (change in guardian)? Did you recently move? Was there some sort of sudden disruption to your dog's schedule? Understanding the cause of your pet's anxiety will help you create a plan to combat any behavior issues and help you stay ahead of any future situations that will worsen their condition.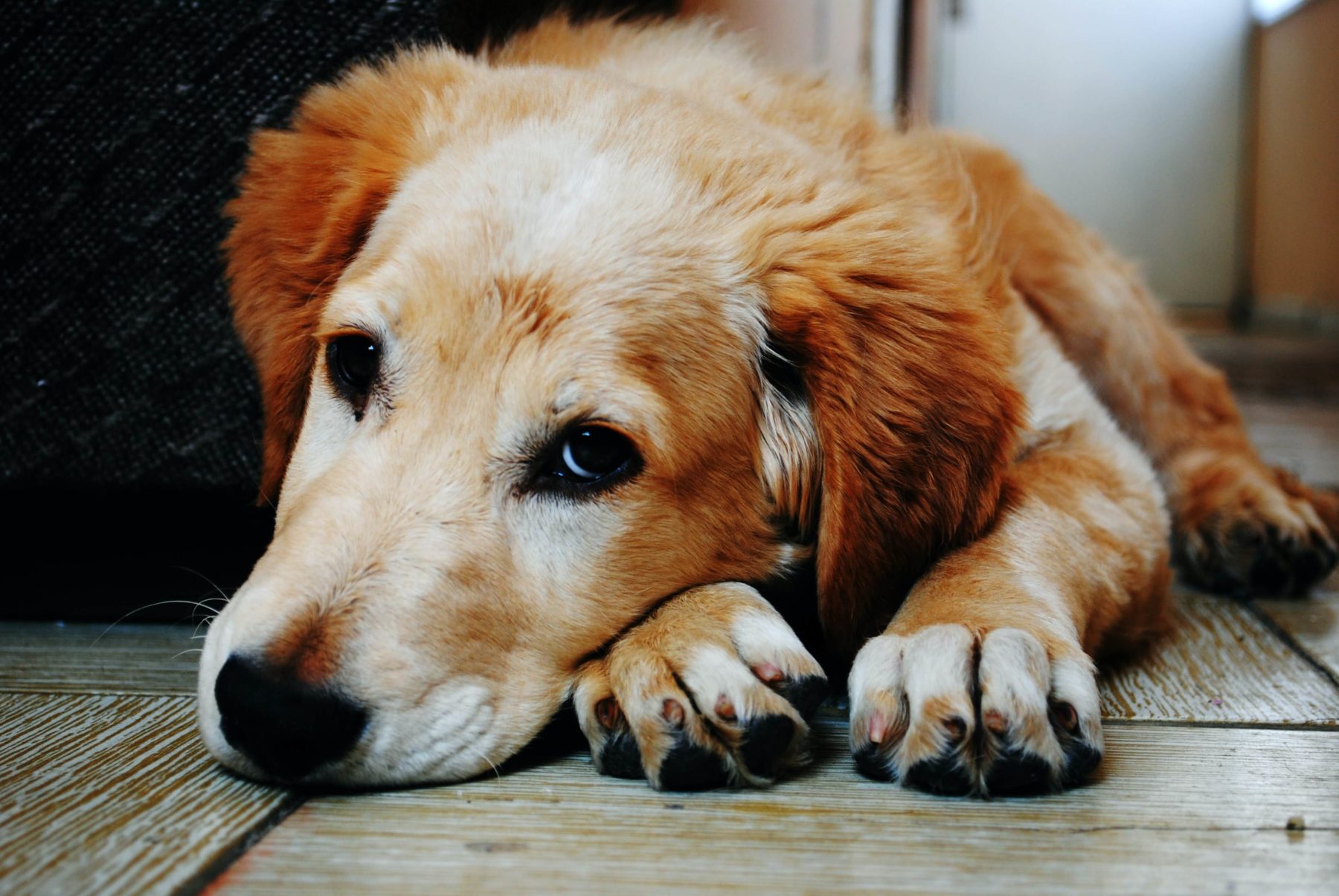 If their separation anxiety is mild, counterconditioning, or associating what they're fearful of with something pleasant, may be the answer. Simply, if your dog enjoys food or a special toy, use those items to associate you leaving with a reward. Stuffed KONGs are a wonderful way to make this association – stuff KONGs with treats or peanut butter, or freeze them with plain yogurt and bananas – a healthy alternative for a pup on a diet. When you arrive home, be sure to take the reinforcer away from them so that it remains a special treat when you leave.
Moderate to severe anxiety will take more work, but the payoff is a happy, stress-free life for you and your companion. It is crucial to start these steps with a shorter time away and build up to a full workday. If you are unable to seek out professional help through a canine behaviorist, here a few steps you can take in preparation:
Does your dog start showing anxiety symptoms as you're getting ready for work? They've associated your morning routine with you leaving and it's time to desensitize them. Do this by picking up your keys or getting dressed and then not leaving the house, so they no longer associate these behaviors with your departure. Only when they no longer show anxiety while you are getting ready, start leaving for very short periods of time. Begin with going outside for a few minutes and work your way up to going on an errand and, eventually, going back to work.
Consider crate training (something we are big proponents of for shelter pets), giving your dog a "job" while you're home (puzzle games, tug o' war, running or swimming) or consulting a veterinarian about possible anxiety medications.
Above all else, do not scold your pup for their anxiety behaviors. These behaviors are a distress response, and punishment can only further these feelings.
Just as humans are creatures of habit, so are our companions. Be patient as they get used to a new normal and remember, when we choose to bring a companion into our lives, they are our responsibility for their whole life, so we must be committed to putting in the work for matters like separation anxiety.
An Aiken native and self-proclaimed cat lady, Claire Roberson is the SPCA Albrecht Center's Communications Director, working in marketing, grant writing and media correspondence. She attended College of Charleston, where she graduated with a degree in Nonprofit Business and interned with Charleston Animal Society, the leader in No-Kill South Carolina. When not working, you can find Claire hanging out with her 18-pound Maine Coon mix, Anakin.
---
The SPCA Albrecht Center for Animal Welfare is a private, nonprofit, no kill animal shelter in Aiken, SC.  The SPCA also operates a local Thrift Store ("Where Shopping Saves Lives"),  a public, affordable Veterinary Care Center & a Dog Park.  It is our mission to improve the lives of companion animals by rehoming abused, abandoned, and neglected pets while fighting for their well-being through vigorous legislative efforts, humane education, and by offering affordable veterinary care for all.
WANT TO SUPPORT OUR HOMELESS ANIMALS?