By: Claire Roberson, Communications Director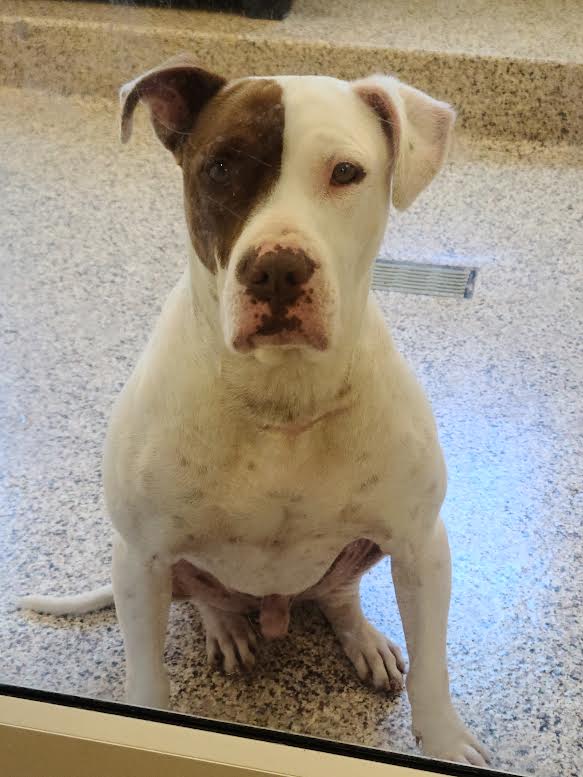 Last Christmas was my second Christmas by myself. I remember walking the streets near Richland Avenue, looking for a special treat in the garbage as a gift to myself….no luck. I looked in the windows of the homes I passed and saw families gathered in the warmth. Their furry friends that looked like me are there! Even though I had only known life by myself, I knew in that moment that all I wanted was a family of my own.
I fell asleep that night under a porch, soaking up any warmth I could get seeping under the door of the home to the outside, and I dreamed…I dreamed to find a person to love me like the dogs I saw enjoying the holiday with their people. I dreamed of getting lots of pets and special treats when I'm a good boy, a cozy bed to cuddle in and going on my adventures with someone by my side. I dreamed until I woke up to the sound of someone shooing me off of the porch…that's not the person I dreamed of.
I went about my day the same way I did for the past nearly two years. I found food in a nearby trash can for breakfast, dodged cars on the road as I went on my afternoon walk, chased a couple of cats I saw outside, got a quick drink from a dripping hose at someone's house and napped behind an abandoned store. I enjoyed my routine because it was all I knew, but I was starting to get lonely and was often hungry. Not to mention the not-so-nice people I encountered during my daily adventures. Was a nice person to help take care of me too much to ask for?
A few days passed since I saw that family in the window on Christmas, but it's still all I thought about.
I was heading back to my favorite abandoned store to nap behind when a car pulled up. I hid behind a bush not knowing who these people were or why they were stopping. A lady got out of the car and knelt down. Her voice was soft as she reached out, asking to meet me. But I don't know about them. Life on your own can make you weary like that, even if the person that wants to meet you is nice like this lady was, but I would never find my person if I didn't take a chance.
I took some slow steps forward. She stayed crouched down and her voice was encouraging. Before I knew it, I was getting gentle pets on my head. Was this what love felt like? Was this my person? She opened the door to her car and welcomed me in.
We started driving away from my favorite nap spot. I was scared and didn't know where I was going, but I also somehow felt safe. After a few minutes, we turned down a long driveway. My doggie senses went wild as I smelled a lot of different animals…and then I saw it. A building with people and animals walking in and out. What is this place? Was this her home?
The lady took me inside and I met some more nice people. Then, one person came out and put some sort of rope around my neck to walk me somewhere – where am I going? I looked back at the lady that found me. She bent down and gave me more love. She told me she couldn't take me home right now, but these people would take good care of me. I gave her a lick goodbye as a "thank you" for showing me some kindness and giving me a chance.
Over the next two weeks, I met many people that worked at this place and even more animals. They gave me food (no more trash!), clean water (no more hoses!), a fluffy bed (no more hard ground!) and more pets then I could handle (no more loneliness!). I was scared for some of it, especially at night when the people were gone or when I got poked with something called a "vaccine," but I knew deep down that it was all to take care of me.
Then, one day, the people moved me to a quieter room with lots of windows. What was this place? And then I saw it! People coming in to meet my doggie friends and me! This is it! This is where I find my person! As grateful as I was for my warm bed, daily food and nice people, my dream was and still is to find a human of my own, and this is how I find them!
I eagerly wait for someone to meet me. Oh, my goodness! They're in the room next to me. I must be next!…..Nope, they walked passed me to another room. That's okay! Maybe this person walking through is my person….Nope, not them either.
The days passed and this was a recurring event for me. The only people that really stopped by were the people taking care of me and their friends that came to walk me every day. I got a lot of love from them, and it sometimes helped the days go quicker. I've lost count of how many days I've been here now. The last I checked it was 200. 200 days of watching people walk past me. Don't get me wrong, I'm so happy for my doggie friends and I know my time will come, but I just can't wait any longer.
I spend my days napping, watching the world outside of my window and going on little walks with the people here – how nice to have a human to share my adventures with. And, every night, I still dream about my person. I just can't see their face, but I know they're out there. Are you them?
Lars has been waiting over 213 days to find his person. He's a big boy that needs a home without cats or small dogs, but otherwise he's truly a gentle giant. He's known to get along with other dogs his size at the shelter and would love to meet your canine companions to make sure he's the right fit. Lars still loves his adventures, and would like a person to join him, but he's also known as our "napping king" – you'll always find him snoozing away, likely dreaming about his person every time. Lars is 3 years old and is a mixed breed – weighing around 68 pounds. Due to his time as a stray, he did test positive for heartworms, but he has already been on treatment and the SPCA Albrecht Center covers the cost even after adoption. His adoption fee is just $25 (adoption special) – includes vaccines, microchip and neuter surgery.
---
The SPCA Albrecht Center for Animal Welfare is a private, nonprofit, no kill animal shelter in Aiken, SC. The SPCA also operates a local Thrift Store ("Where Shopping Saves Lives"), a public, affordable Veterinary Care Center & a Dog Park. It is our mission to improve the lives of companion animals by rehoming abused, abandoned, and neglected pets while fighting for their well-being through vigorous legislative efforts, humane education, and by offering affordable veterinary care for all.
WANT TO SUPPORT OUR HOMELESS ANIMALS?