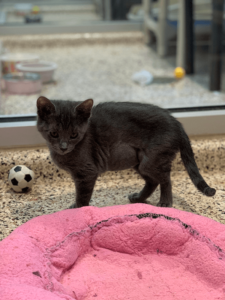 In my totally biased, cat-loving, wanting-to-own-a-farm-of-cats opinion, kittens are on the top of my "Cutest Things On The Face of This Planet" list. From their tiny 'meows' to their clumsy rompings, I can't help but fall in love with each kitten I see. Lucky for me, during this time of year there are plenty of kittens to share my love with.
During the springtime, shelters across the country are overcrowded with the 20 *MILLION* kittens that are being born in the U.S. this spring alone (ASPCA.org). Luckily, COVID-19 slowed down the intake of animals, but with things returning to normal, the SPCA Albrecht Center is now receiving call after call regarding litters of kittens.
When you find a litter of kittens, it can be difficult to make the right decision of whether or not to take the kittens to your local shelter. Thanks to Charleston Animal Society, the leader in the No-Kill South Carolina movement, we have a clear set of rules to follow when we stumble upon these adorable creatures:
To start, determine if the mother has abandoned her kittens or if she is off hunting some food for her young. Do this by simply observing the kittens and see if their momma returns in the next few hours. Observe from inside of your house, at a distance or in a hidden spot to ensure the mom is not returning because of your presence. Be patient (CharlestonAnimalSociety.org).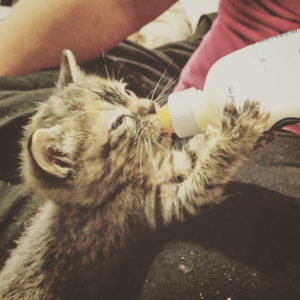 If you see the mom return, the best option is to leave the kittens with her! Just remember, "If you see, let 'em be." As long as the location is safe, then leaving the offspring with their mom is best since she is the most capable in providing care. You can help with providing water, food or shelter. Keep the area as safe as possible until you see the kittens exploring on their own. This is the ideal time to bring them to a shelter or veterinarian for a health checkup, spay/neuter and socialization (
CharlestonAnimalSociety.org
).
If you do not see the mother of the kittens return after eight-hours, you believe she has abandoned her young or the kittens are in danger, there are a few options for you. The first option is to raise the kittens yourself. A second option is to take them to your local shelter to be fostered until they are old enough for adoption. Lastly, if the kittens are 6 weeks or older, TNR (trap, neuter, return) (CharlestonAnimalSociety.org).
If you are having trouble deciding if the kittens are old enough to be TNR'd, go to www.charlestonanimalsociety.org/baby-kittens where they have provided videos to help you determine their age.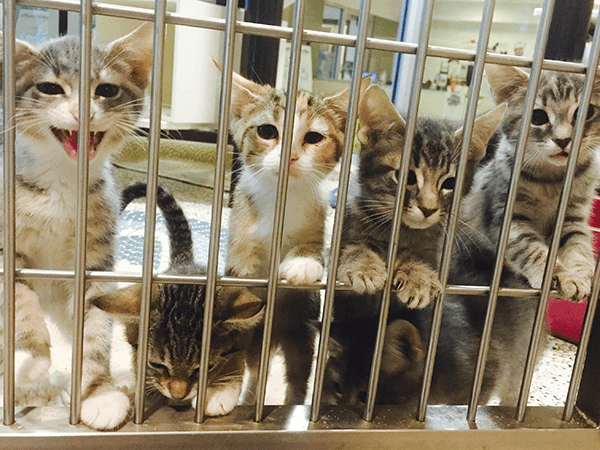 It's important to note that if you just want to remove the cats from your property then the best option is to TNR the mom and the kittens when they are old enough. Simply removing the stray cats will only open up the area for a new stray cat to move in, and statistics show that this will happen. TNR is the safest option in preventing stray overpopulation of cats and will still allow them to live a long and healthy life. If you are interested in reading about the benefits of TNR, visit Alley Cat Allies' website where they discuss how TNR stabilizes feral cat colonies, improves and protects cats' lives and helps the community (www.alleycat.org).
If you choose to TNR, visit www.spcavetcare.org/tnr to see how the SPCA Albrecht Center's program works.
We have kittens looking for forever homes! Adoption fees include: spay/neuter, age-appropriate vaccinations, microchip implant, deworming and feline leukemia testing. If you are interested in adopting, please visit the SPCA Albrecht Center for Animal Welfare Monday – Saturday; 11am – 4:30pm. For cat adoptions, you must be 18 years or older, have a valid driver's license, a copy of the medical records for all current pets (be sure all current pets are up-to-date on vaccinations) and a carrier to take your fur-ever friend home.
The SPCA Albrecht Center for Animal Welfare strives to improve the lives of companion animals by rehoming abused, abandoned, and neglected pets while fighting for their well-being through vigorous legislative effort, humane education, and by offering affordable veterinary care for all.
An Aiken native and self-proclaimed cat lady, Claire Roberson is the SPCA Albrecht Center's Communications Director, working in marketing, grant writing and media correspondence. She attended College of Charleston, where she graduated with a degree in Nonprofit Business and interned with Charleston Animal Society, the leader in No-Kill South Carolina. When not working, you can find Claire hanging out with her 18-pound Maine Coon mix, Anakin.