By: Miranda Ewing, Director of Volunteer Services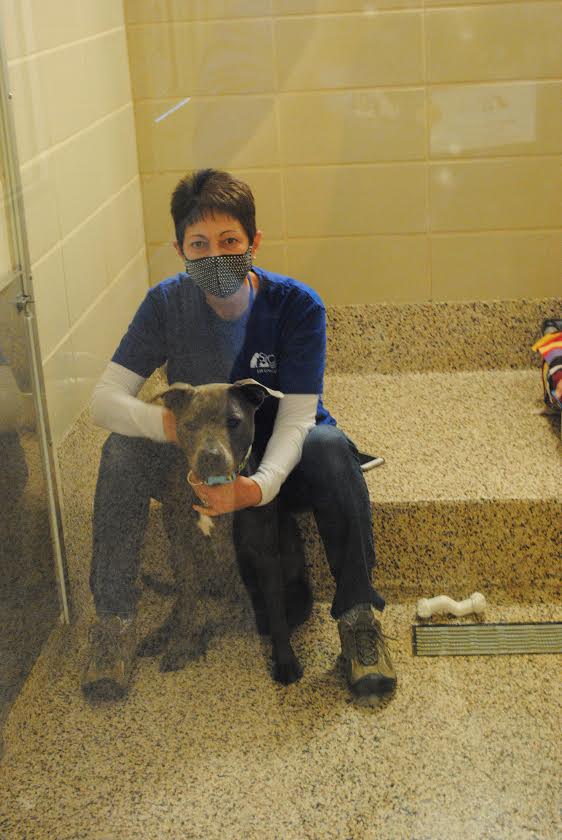 For April's Volunteer Spotlight, the SPCA Albrecht Center would like to recognize Peggy Miller! Peggy is originally from Pennsylvania and moved to Aiken last May when her husband relocated to work at Plant Vogtle. When submitting her volunteer application, Peggy wrote, "I am longing to invest my time and efforts to become a team member and assist in any way I can," and she has done just that!
When joining the SPCA's volunteer team in January, she began socializing with and supporting the shelter cats and dogs. By the next month, she expanded her volunteer skills to become a Veterinary Care Center (VCC) Greeter, for which the VCC staff members are very grateful. The staff appreciate Peggy's self-motivation to help in whatever way possible. She goes above and beyond to assist the VCC clients and is willing to handle more complicated customer service inquiries. Peggy explains, "I really find working with people, helping animals, and assisting staff rewarding. It can be challenging over here at the VCC so I enjoy helping out."
When at home, Peggy keeps herself inspired with creative hobbies including DIY crafts and sewing. Recently, Peggy has expanded her love of arts and crafts to become a designer with Chalk Couture, a company for DIY designers making unique home décor. In the past, Peggy would make clothes for her daughter and continues to share creativity with her growing family. Now that she has 3 grandchildren- Emma, Jesse, and Kayla- Peggy relishes doing arts and craft projects with them. Peggy misses her family who live back home in Pennsylvania but is looking forward to bringing one of the grandchildren to Aiken during the summer for a horse camp.
Companion animals are a big part of Peggy's life. She and her husband have adopted Italian Greyhounds over the years and had a beloved dog named, Samantha, who unfortunately passed away last year. Peggy hopes to add another furry family member this summer. Mr. Miller is partial to having a Great Dane, but Peggy has her own grand plans- she'd like to train her future canine to become a therapy dog and visit some of the area's nursing homes.
As moving many states away from family must have been stressful, Peggy has found fulfillment in her new roots here in Aiken, and we look forward to seeing the continuous blossoming of her endeavors. Thank you, Peggy, for being a vital part of the SPCA's mission to help homeless pets!
---
Miranda Ewing joined the team at the SPCA Albrecht Center for Animal Welfare in February 2020. She has committed her life to volunteering and fostering homeless animals and believes the strength of a community shines when we can lean on each other. A 2012-2013 AmeriCorps alumni and Rescue Volunteer for Team Stinkykiss (a local CSRA animal rescue), she is an advocate for all animals and all people! Her family includes her husband, who knows all critters may find a temporary home with him (even if he's allergic to some).
---
The SPCA Albrecht Center for Animal Welfare is a private, nonprofit, no kill animal shelter in Aiken, SC.  The SPCA also operates a local Thrift Store ("Where Shopping Saves Lives"),  a public, affordable Veterinary Care Center & a Dog Park.  It is our mission to improve the lives of companion animals by rehoming abused, abandoned, and neglected pets while fighting for their well-being through vigorous legislative efforts, humane education, and by offering affordable veterinary care for all.
WANT TO SUPPORT OUR HOMELESS ANIMALS?