Spay or Neuter to Show Your Love for Pets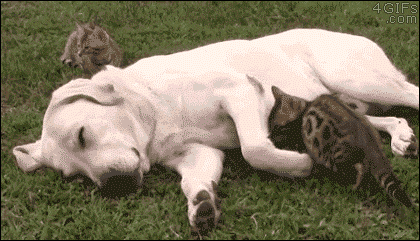 What better month than February, the month of love, to show our love for pets by designating it "Spay/Neuter Awareness Month" and celebrating "World Spay Day" on February 27th.
What does spaying and neutering have to do with love? Well, you could say that "love" is the driving force behind unaltered cats and dogs seeking out mates resulting in far too many litters of kittens and puppies, many of whom will end up on the street or in crowded animal shelters.
But more accurately, the love comes from the efforts of people, charged with the care of these pets, to help bring awareness to the problem of pet overpopulation and provide resources to help fix the issue.
The reason is this: if left unaltered, a pair of dogs and their litters can produce 67,000 dogs in
just six years. The numbers are just as high or higher for cats and both species can get pregnant with their first litter as early as four months old. Thousands of animals, all needing homes. There are so many homeless pets that animal shelters simply do not have the space or resources to help them all, resulting in an estimated 1.5 million pets being euthanized in our country every year. [i]
The good news is that that number, as heartbreakingly big as it is, has reduced significantly over the last decade, thanks in part to an increase in spaying and neutering.
Fixing pets before they can reproduce prevents unwanted litters, which means fewer pets in shelters and fewer pets facing homelessness or possibly euthanasia. Plus, there are other, immediate benefits for your pet when you spay or neuter.
Spaying or neutering your pet prevents many reproductive cancers and diseases, which means a longer, healthier life. Also, your female pet won't go into heat, which is often accompanied by behavior challenges, and your male pet will be less likely to roam away from home in search of a mate.
Seems simple, right? If spaying and neutering can save so many lives and is beneficial to your pet, everyone should do it! I agree. Unfortunately, not everyone who owns a pet is aware of the importance of spaying and neutering, and others are aware but think they can't afford the surgery. You can help by spreading the word with your family, friends and neighbors.
As for affordability, the SPCA's full-service Veterinary Care Center offers affordable veterinary care for pets, including spay and neuter surgery. Regular spay/neuter prices start at just $40 and vouchers are available for qualifying city and county residents bringing the cost down to as little as $20, which includes a rabies vaccination. Visit spcavetcare.org for a complete list and more information.
Want to help the cause? On Tuesday, February 27th, World Spay Day, the SPCA Albrecht Center will host its fifth annual Spayghetti Dinner from 5:00 to 8:00pm, to raise funds for affordable spay and neuter surgeries. Tickets are just $8 in advance or $10 at the door. Purchase advance tickets at LetLoveLive.org, call 803-648-6863 or visit 199 Willow Run Road, in Aiken. Tickets are also available at both SPCA Thrift Shop locations on Richland Avenue downtown and on Whiskey Road in the Mitchell Shopping Center.
Not able to attend? Please consider a donation to the cause. You can contribute securely and easily online at www.LetLoveLive.org/donate by selecting the Spay/Neuter Fund designation. Every little bit helps.
Together, with time, and by showing our love to the animals that need us, we can end the cycle of unintended litters and homeless pets.
Sarah Neikam is the Director of Organizational Development for the SPCA Albrecht Center for Animal Welfare. She is an Aiken native and has been with the SPCA since 2012. Sarah's family includes three adopted cats: Bastian, Luna and Grady, who are all living happy, loved lives thanks to the efforts of the SPCA.
[i] ASPCA Pet Statistics: https://www.aspca.org/animal-homelessness/shelter-intake-and-surrender/pet-statistics