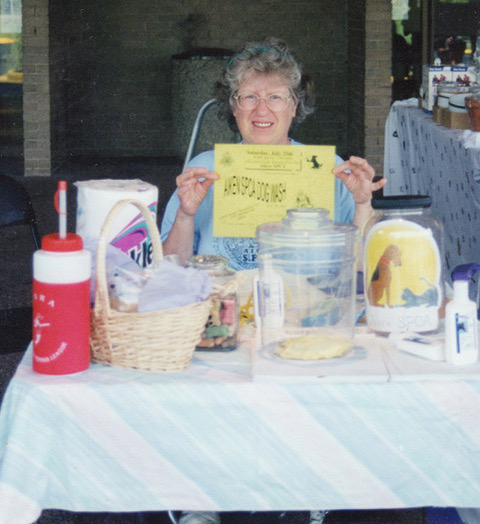 The SPCA Albrecht Center recognizes volunteer Barbara Gregory. Mrs. Barbara is originally from Chicago, lived in Florida for a while, then the Gregory family moved to Aiken in 1965. Barbara's passion, besides helping animals, is traveling the world. What an adventurous lady to have visited 22 countries! She especially loves to explore each place's natural flora and fauna, particularly Kenya and Tanzania "where the animals are unbelievable!" At home, Barbara's animal friend is named Angel, a sweet senior cat who was wondering in the woods last year infested with fleas and looking quite ragged with patches of fur missing. As soon as the cat would approach her, Barbara took him to a local vet's office. Now Angel is settled into his loving habitat in the Gregory home.
When meeting Ms. Barbara, you will soon learn how much she knows about the organization's history. She can share stories of the first SPCA Thrift Store which opened in February 1995 on Park Avenue. This location was small and cozy with a spot nicknamed "Lucy's Book Nook" after the volunteer who diligently labeled and alphabetized the selection. Barbara also assisted at the shelter's front desk when the SPCA was located in its original building. She remembers greeting guests, answering phone calls, and seeing the first computerized database for recording shelter animals' information. Barbara has loads of stories about past SPCA activities including Christmas caroling with the volunteer pet therapy group, harrowing stories of shelter animals who surpassed all odds, and teaching animal welfare topics to students in the community. Ronald, Barbara's husband, also volunteered his financial management skills and even became interim shelter manager three different times. The couple began volunteering 28 years ago when their adult son, Scott, passed away. Volunteering allowed them to find direction through a harrowing time of grief.
The SPCA Thrift Store is now located in the Mitchell Shopping Plaza on Whiskey Road, and Barbara comes in every Friday to sort through the donated clothes and tags the items for sale. When asked what she enjoys about volunteering at the SPCA Thrift Store, Barbara says, "I like the different people I encounter. I see the regular shoppers and I like the workers as well as Marcia." Marcia is a fellow retail volunteer, and the two ladies have formed a bond while serving alongside each other. It's no wonder animal advocates become friends when love is at the center of their passion. The staff describe Barbara as personable, laidback, and very helpful. In addition to sorting the clothes, Barbara will chip in to wait on customers at the jewelry counter and assist with bagging items at the sales counter. "She'll do everything but lift heavy furniture," jokes Thom, the store manager. The SPCA is very thankful for Barbara's years of service and love for the animals who need help. Thank you, Barbara Gregory!