By: Sarah A. Neikam, Operations Manager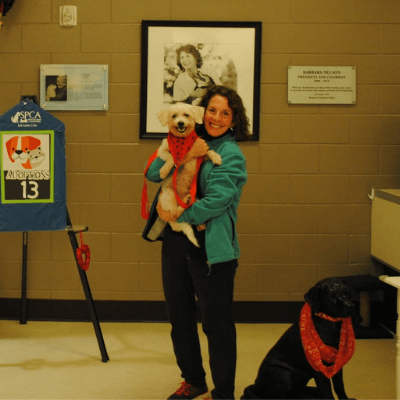 Falling in love with a pet is easy and often not planned. We see it every day at the SPCA Albrecht Center. People who visit the shelter for an event, a field trip, or to make a donation almost always feel the need to take a stroll through the adoption areas "just to look".
Sometimes it takes just one look, a paw reaching out, or a soft nuzzle and before you know it we hear "Oh my gosh I want this puppy/kitten/dog/cat/rabbit/ferret!"
Impulse pet adoptions can work out for an adopter with patience and a home environment suitable to their new found love. Often though, these adoptions result in pets being returned to the shelter due to "unrealistic expectations", which is stressful and sad for everyone involved, especially the pet.
This is why it's important to be Pet Ready before you adopt. Adopting a pet is a life-changing decision and requires committing years of your life to their care and thousands of dollars over the lifetime of a pet.
First, ask yourself why you want a pet. Do you truly want to save a life and add years of unconditional love and joy to yours? Or have the kids been begging you for months and you're finally giving in? If you have young children, waiting a few years before adopting a companion animal is recommended. Responsible pet ownership requires children who are mature enough to handle the care and attention pets require, and also understand that pets need personal space and respect.
Next, consider your finances. Can you afford a pet? A pet's adoption fee, or lack thereof, is just the beginning of a lifetime of expenses. A Forbes magazine article estimates that the average cost of pet ownership per year is about $1,000.
Those costs begin immediately after adoption when you will need to purchase food, bowls, a leash or carrier, toys, pet beds, and litter box supplies for cats. Those items will need to be continually replaced, and then there's spay or neuter and vaccinations (if not included with the adoption fee), flea control, heartworm prevention, testing, grooming, training and basic exams, not to mention added costs if your pet ever becomes sick or injured.
Consider your home: are pets allowed? If you rent your home, a significant pet deposit may be required, or pets may not be permitted at all. Some rental communities only allow certain types or sizes of pets. And if you plan to move within the next 10-15 years, are you willing to restrict your housing choices to those that permit pets and have the space your pet will require?
It's also important to think about your pet's alone time. If you and your family are away from home for most of the day for work or school, your pet may not get the attention it needs to meet your expectations as a well-behaved companion animal. Cats are certainly more independent and self-sufficient than dogs, but even they can get bored and act out in destructive or unhealthy ways.
Make sure you have reliable friends or family members to look after your pet when you're away, or be willing to pay for reputable boarding or a qualified pet sitter.
And finally, is the pet you've chosen the right fit for you, your family, and your lifestyle? For example, adopting a large hound dog is probably not going to work out if you live in a small, third floor apartment. Some types of dogs require a lot of physical and mental exercise. If you are not willing or able to provide the enrichment and time they need, it's likely that your pet will display their frustration with bad behaviors like barking, chewing, digging or jumping.
All of this can be a lot to think about, but take a quick stroll through any animal shelter, or browse adoption listings online for a quick reminder of the many homeless pets who need more people like you to consider opening your heart and home to them.
And remember these considerations to ensure that the pet you pick is the right fit before adopting to make sure that your home really is their forever home, and that you really are Pet Ready.
Sarah Neikam is the Marketing Director for the SPCA Albrecht Center for Animal Welfare. She is an Aiken native and has been with the SPCA since 2012. Sarah lives in Graniteville with her family which includes three adopted cats: Bastian, Luna and Grady, who are all living happy, loved lives thanks to the efforts of the SPCA.
---
The SPCA Albrecht Center for Animal Welfare is a private, nonprofit, no kill animal shelter in Aiken, SC.  The SPCA also operates a local Thrift Store ("Where Shopping Saves Lives"),  a public, affordable Veterinary Care Center & a Dog Park.  It is our mission to improve the lives of companion animals by rehoming abused, abandoned, and neglected pets while fighting for their well-being through vigorous legislative efforts, humane education, and by offering affordable veterinary care for all.
WANT TO SUPPORT OUR HOMELESS ANIMALS?