By: Claire Roberson, Communications Director
On October 1, 2016, we waved goodbye to Oreo, a young black and white shepherd, as he went home with his adopter. Nearly five years later, we welcomed Oreo back to the SPCA Albrecht Center with open arms when his loving adopter had no other choice, due to a developed health condition, but to return him to our care.
This is never the outcome we hope for our animals, but it's also not the outcome adopters like Oreo's hope for either. Unfortunately, in instances like this, life's obstacles are much bigger than anything we could expect, resulting in returning an animal to the shelter being the best option for a companion. This is why, as part of our contract, if an adoption does not work out, we require the adopter to return their furry friend to our care so we can make sure their next home is the right fit.
After five years with Oreo's first adoption, being back in the shelter was obviously stressful, but lucky for him we have an incredible team of volunteers who step up when life gets tough for our shelter animals. It didn't take long before volunteer Donna Boswell fell in love with Oreo and decided to foster him upon his return to ensure he didn't regress and had the best chance at a forever home.
On October 6th, Donna puts Oreo in her car and drove him to his temporary home to join here and her cats, who he loved – especially her smallest cat Zoe, who would cuddle with Oreo.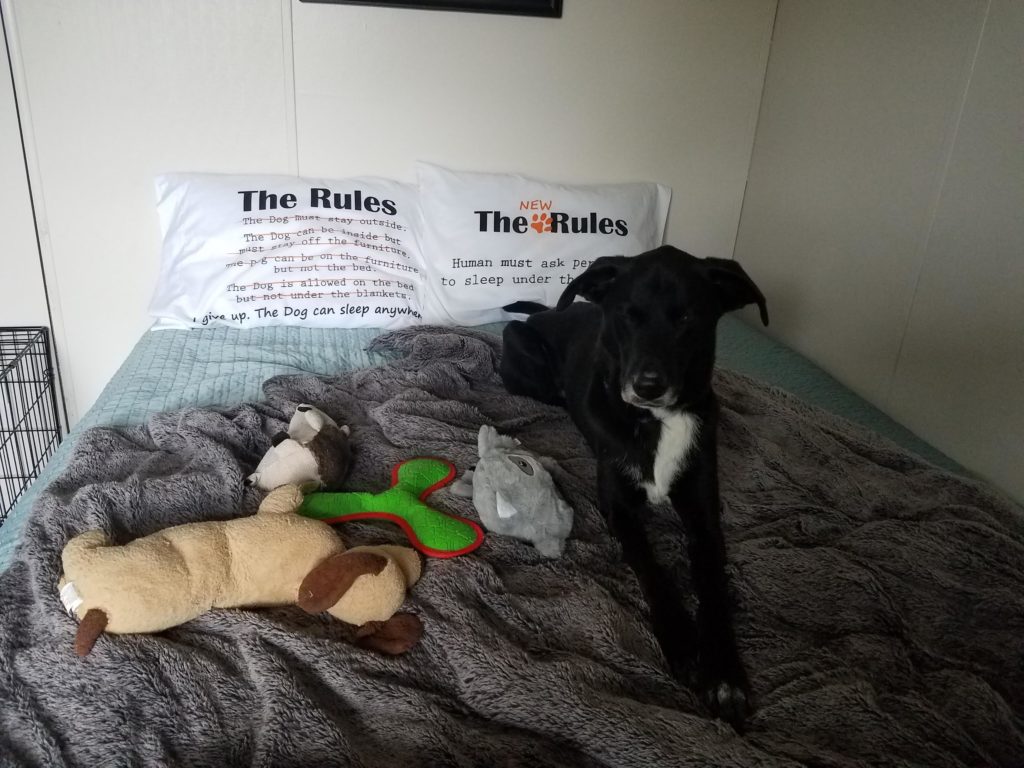 Upon arrival to Donna's home, she made Oreo a nice bed of his own, which Oreo quickly ignored and jumped right in Donna's bed where he slept all night next to her side. The next week was filled with naps and, well, more naps. Shelters are stressful for most animals, no matter how well they're treated, but for pups like Oreo, the shelter can be exceptionally stressful. It clearly worked wonders for his mental health to be able to rest in a quiet, comfy, loving home like Donna's.
On top of Donna welcoming Oreo into her home, she also kept short "blogs" about him, where she noted how his previous adopter clearly loved Oreo and put a lot of work into giving him a happy life. We are exceptionally grateful to volunteers and fosters that share their experiences with our animals as every detail helps us find the perfect home for each adoptable pet. Here are a few excerpts from Donna's time with sweet Oreo:
"He has such a sweet personality. Calm nature, not pushy, a gentle giant. He completely ignores the cats when he sees them going to the restroom. He knows already sit, shake and down commands. Just so loving!"
"He has been eating, not the canned food but the soft food in the little bags. He really likes that kind of food the most. But I have been trying to give him the can also. I tried to trick him and mix it together…he is very clever."
"I am working this week on walks and just getting him out of his room. We have been going on several walks a day. He is doing great with the walks. He never pulls and always is right by my side."
And, our personal favorite: "Oreo is truly like a cookie. A little crunchy at first; then, when you soak him with love (like milk) he melts your heart. And, when he finally opens up, he is so sweet on the inside!"
With these details in hand, Donna began the search for an adopter for gentle, clever Oreo. Fosters are not required to keep a foster animal until adoption but, boy, does it help shy animals like Oreo to transition from home to home rather than return to the shelter in the middle of this process. It didn't take long before adopters Helene & Dan fell in love with Oreo just like Donna had and on October 23rd, 2021, a month after Oreo was returned to the SPCA, he found his forever home in their arms.
Oreo now has two furry siblings, 15 beautiful acres to run and play and a loving forever home of his own.
There is nothing more rewarding to our staff, volunteers and supporters, who know and love our animals, than to see happy endings for our shelter animals. We call these "Happy Tails!" Have you adopted from the SPCA Albrecht Center and have your own Happy Tail? Make our day and submit it to LetLoveLive.org/adopt/happy-tails to have it shared on our website and with staff & volunteers!
Want to give one of our shelter animals a Happy Tail? Adopt one of our amazing, homeless animals by visiting them at 199 Willow Run Road in Aiken; Monday – Saturday from 11am to 4:30pm or sign up to foster at LetLoveLive.org/how-to-help/foster.
---
An Aiken native and self-proclaimed cat lady, Claire Roberson is the SPCA Albrecht Center's Communications Director, working in marketing, grant writing and media correspondence. She attended College of Charleston, where she graduated with a degree in Nonprofit Business and interned with Charleston Animal Society, the leader in No-Kill South Carolina. When not working, you can find Claire hanging out with her 18-pound Maine Coon mix, Anakin.
---
The SPCA Albrecht Center for Animal Welfare is a private, nonprofit, no kill animal shelter in Aiken, SC. The SPCA also operates a local Thrift Store ("Where Shopping Saves Lives"), a public, affordable Veterinary Care Center & a Dog Park. It is our mission to improve the lives of companion animals by rehoming abused, abandoned, and neglected pets while fighting for their well-being through vigorous legislative efforts, humane education, and by offering affordable veterinary care for all.
WANT TO SUPPORT OUR HOMELESS ANIMALS?