By: Sarah A. Neikam, Marketing Director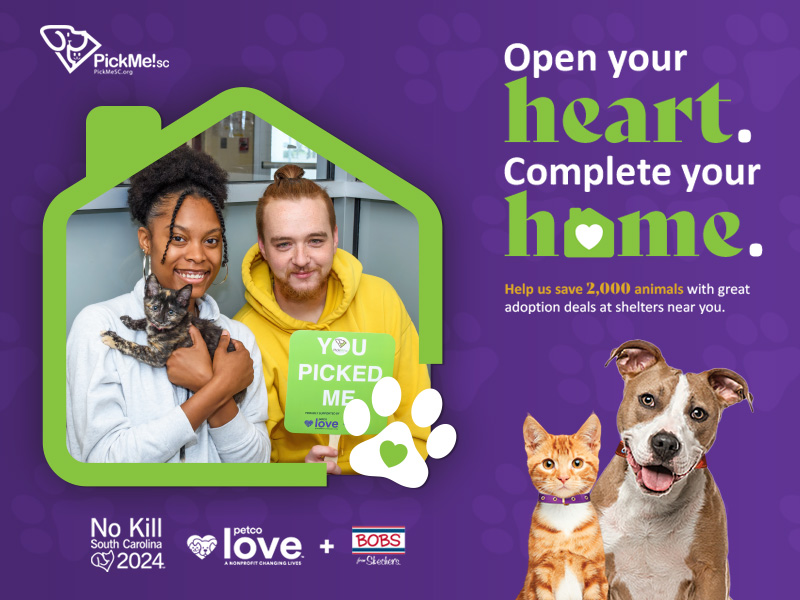 The SPCA Albrecht Center for Animal Welfare is proud to join forces with animal shelters across the state in South Carolina's largest state-wide adoption event. From July 14th to 23rd, the SPCA Albrecht Center will be waiving adoption fees for all animals in their care, giving individuals and families the opportunity to welcome a furry friend into their homes at no cost.
Pick Me! SC is an extraordinary 10-day initiative that aims to find loving homes for 2,000 animals across South Carolina. The event, organized by No Kill South Carolina 2024, a lifesaving initiative of Charleston Animal Society, and powered by Petco Love and BOBS from Skechers™, brings together over 45 shelters, rescue organizations, and Petco Pet Care Centers across the state. This monumental effort makes Pick Me! SC the largest adoption campaign of its kind in the entire country.
Abigail Appleton, Chief Project Officer of No Kill South Carolina 2024, expressed the mission behind the event, stating, "During summer, animal shelters and rescue organizations face their greatest challenges, and our mission is clear: to find as many dogs and cats safe, loving homes as possible."
The SPCA Albrecht Center is thrilled to be a part of this life-saving extravaganza. With the support of Pick Me! SC, the center aims to place numerous animals in forever homes. By waiving adoption fees for the duration of the event, the SPCA Albrecht Center hopes to remove any financial barriers and encourage more people to consider adoption.
Throughout the adoption event, participating shelters and rescue organizations are offering either free or low-fee adoptions. Petco Pet Care Centers are opening their doors to welcome these organizations, facilitating connections between potential adopters and shelter animals. Nearly every Petco across South Carolina is joining forces for this momentous event. A complete listing of participating shelters and Petco Pet Care Centers can be found at PickMeSC.org.
Additionally, Pick Me! SC is providing lifesaving spay-neuter surgeries to 250 animals across the state, ensuring their readiness for adoption. This critical service is made possible through the generous support of Petco Love and BOBS from Skechers™, who have made a significant investment to address the veterinarian shortage and help shelters provide necessary medical care.
The impact of previous Pick Me! SC events has been profound, with many individuals admitting that they had never visited their local shelters until participating in this campaign. The event creates an opportunity for communities to come together, support their local shelters, and offer a second chance at a happy life for animals in need.
The SPCA Albrecht Center encourages everyone to visit their shelter during this event and give a deserving dog or cat the forever home they deserve. Remember to bring a leash for dogs or a carrier for cats when adopting, and although no adoption fee will apply during this event, there are adoption requirements that must be met. Visit LetLoveLive.org/adopt to download the adoption application and view the requirements in advance.
As Pick Me! SC sets its sights on saving lives and creating happy endings, let us join forces and show our support for the animals that deserve a second chance. Together, we can make a difference in the lives of countless animals across South Carolina.
Sarah Neikam is the SPCA Albrecht Center's Marketing Director and has been a staff member since 2012, serving first as Volunteer Coordinator, then Digital Media Manager and as Director of Operations & HR from 2018 until 2023 when she returned to her marketing role. Sarah earned her Certified Animal Welfare Administrator credential in January, 2022. She lives in Aiken with her husband Tom, their three adopted cats: Bastian, Luna & Grady, plus three former feral cats: Phoebe, Big Boy & Willow, who are happy to take advantage of the safety and consistent meals the Neikam home provides.