By: Sarah Neikam, CAWA, Operations Manager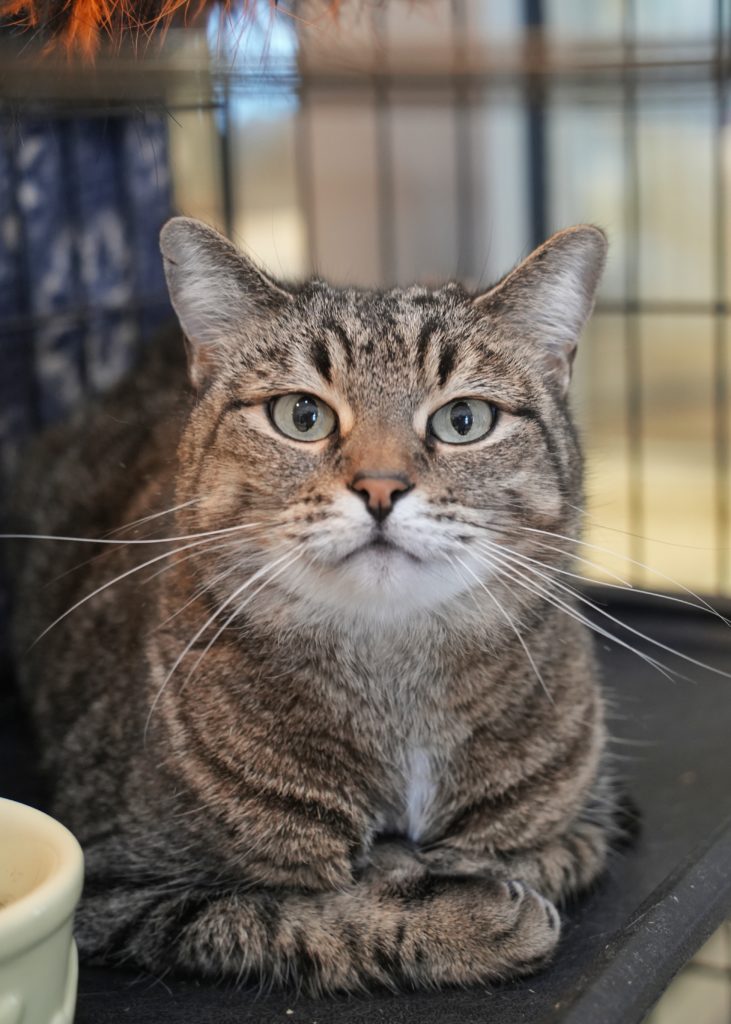 Many of the calls we receive at the SPCA Albrecht Center are from potential pet adopters. "Do you have any house-trained dogs?" No, probably not. "Do you have any dogs who are good with kids?" Probably; do you have kids who are good with dogs? "Do you have any cats who won't shed?" Nope. "Do you have any declawed cats?" Usually no, but every now and then, we do. Just last week a pretty calico named Iris Pretzel was adopted after being with us only a couple of weeks. Her adopter wanted a declawed cat and she was lucky enough to find one. (PHOTO: Adoptable Laila)
Iris Pretzel was lucky too. Lucky there was space available in our shelter when her owners decided to surrender her, and lucky her new adopter came along so quickly. Unfortunately, luck wasn't on her side when her claws were surgically removed from all four of her feet.
The reason given for her surrender was that the family was moving and Iris Pretzel had some behavior issues such as over-grooming and urinating outside of the litter box. It was not determined if Iris Pretzel's previous owner had her declawed, or if she came to them already declawed.
Either way, it's likely and sad that the behaviors she was exhibiting were caused by the fact that she was declawed. Many people think declawing a cat is an easy solution to preserving your furniture, carpet or skin. No claws means no scratching, right? Right. But declawing a cat is not the simple, "quick fix" that some still believe it to be.
Declawing a cat is not the same as trimming your overgrown fingernails. It is actually a serious and often painful procedure that "traditionally involves the amputation of the last bone of each toe. If performed on a human being, it would be like cutting off each finger at the last knuckle."[i]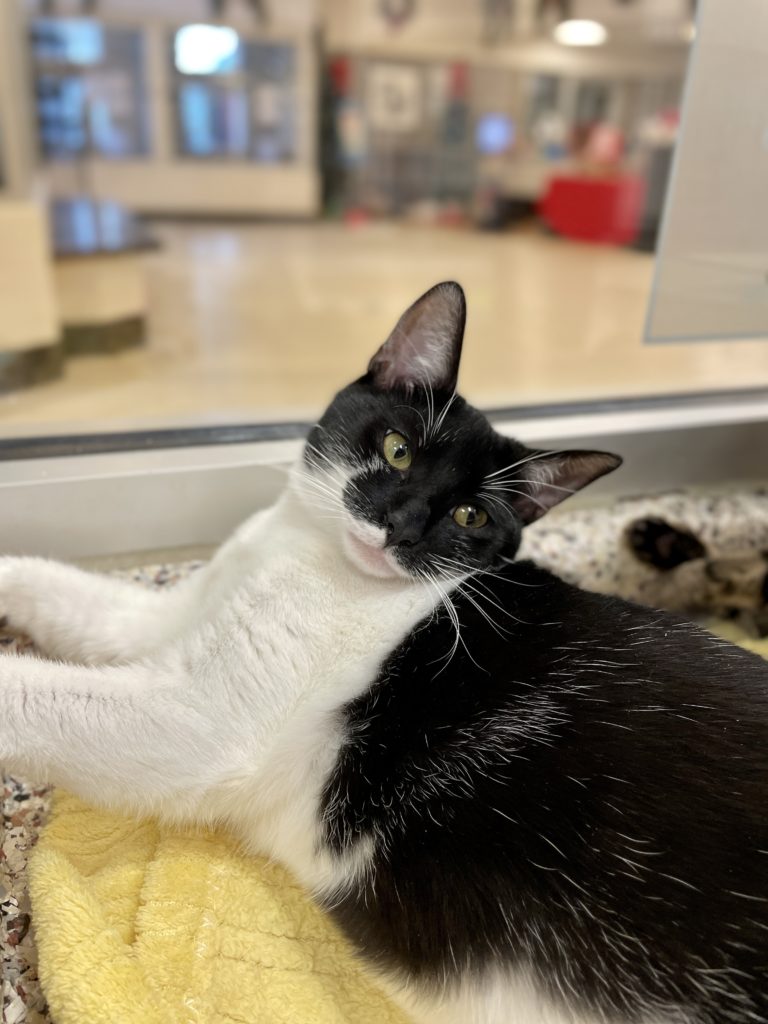 Risks related to this procedure can include paw pain, lameness, and even back pain because removal of a cat's claws changes the way their foot makes contact with the ground. If removed improperly, there can be bone spurs or nerve damage. According the Humane Society of the United States, declawing can also make a cat less likely to use the litter box (like Iris Pretzel) and more likely to bite. A declawed cat also has a diminished chance of defending itself in the face of another cat, dog or other predator. (
PHOTO: Adoptable Thorn
)
None of these risks are necessary and the practice of feline declawing is widely discouraged in the animal welfare community. Several U.S. cities have banned the procedure and New York and Maryland have banned it statewide.
There are some veterinarians who will perform the procedure, but many do not, including our own veterinarians at the SPCA Veterinary Care Center. The Humane Society of the United States "opposes declawing except for the rare cases when it is necessary for medical purposes, such as the removal of cancerous nail bed tumors."
The ASPCA is also "strongly opposed to declawing cats for the convenience of their owners or to prevent damage to household property." Their stance is that "the only circumstances in which the procedure should be considered are those in which all behavioral and environmental alternatives have been fully explored, have proven to be ineffective, and the cat is at grave risk of euthanasia."[ii]
So what's the alternative? The best alternative is to let a cat be a cat. Scratching is normal, healthy feline behavior and cats should be allowed to do so freely. It's up to the cat owner to provide them with appropriate opportunities, devices and training to combat unwanted scratching.
Sisal scratching posts can offer a cat a more appealing option than furniture scratching. There are also scratching guards that can be applied directly to furniture to protect against clawing, pheromone diffusers and sprays, colorful, non-toxic vinyl caps that can be applied to each claw, or just regular nail trims to keep the tips blunt and short.
If you are having a cat scratching problem, make an appointment to speak with your veterinarian about the best options, keeping in mind that declawing should only be considered as an extreme, last resort.
The SPCA Veterinary Care Center is here to help, too. Give them a call at 803-648-6864. Walk-in hours are Tuesday – Friday from 1:00pm – 4:00pm or Saturdays from 8:00am – 12:00pm. We're located at 199 Willow Run Road, in Aiken.
[i] https://www.humanesociety.org/resources/declawing-cats-far-worse-manicure
[ii] https://www.aspca.org/about-us/aspca-policy-and-position-statements/position-statement-declawing-cats#:~:text=The%20ASPCA%20is%20strongly%20opposed,prevent%20damage%20to%20household%20property.
---
Sarah Neikam has been with the SPCA Albrecht Center since 2012 serving first as Volunteer Coordinator, then Digital Media Manager, followed by Marketing Director and now Operations Manager. She earned her Certified Animal Welfare Administrator credential in January, 2022. Sarah lives in Aiken with her husband Tom and their three adopted cats: Bastian, Luna and Grady plus three "former feral" cats: Willow, Big Boy & Phoebe.
---
The SPCA Albrecht Center for Animal Welfare is a private, nonprofit, no kill animal shelter in Aiken, SC. The SPCA also operates a local Thrift Store ("Where Shopping Saves Lives"), a public, affordable Veterinary Care Center & a Dog Park. It is our mission to improve the lives of companion animals by rehoming abused, abandoned, and neglected pets while fighting for their well-being through vigorous legislative efforts, humane education, and by offering affordable veterinary care for all.
WANT TO SUPPORT OUR HOMELESS ANIMALS?