By: Sarah Neikam, Operations Manager
I learned recently about a misunderstanding regarding the staff working in the SPCA Albrecht Center's Veterinary Care Center. Because the veterinary clinic, along with the SPCA's animal shelter and Thrift Store, are all part of the same non-profit organization, and because prices are generally lower than the industry standard, it's assumed by some that there are "no real doctors on staff," but instead, "just students."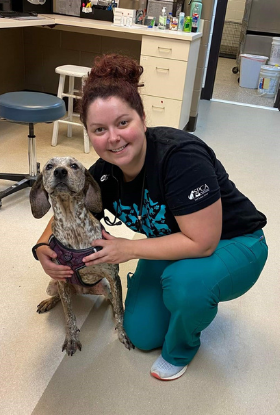 PHOTO: Dr. Emily Beaty
While the SPCA does run a very popular Veterinary Externship Program, offering 4
th
year veterinary students of AVMA accredited schools the chance to gain surgical and shelter pet experience, they also staff a complete, professional, veterinary clinic team including several veterinary assistants, a Licensed Veterinary Technician and two full-time, well-educated, experienced, licensed veterinarians.
Dr. Emily Beaty, a graduate of Mississippi State University and Dr. Lisa James, a USC-Aiken and University of Georgia graduate, lend their knowledge, experience and skills to both owned and homeless pets in the SPCA Veterinary Care Center.
Tuesdays through Fridays, Drs Beaty and James, along with the clinic team, spend their mornings spaying and neutering client-owned and homeless shelter pets as well as community cats brought in through the Trap-Neuter-Release (TNR) program. Afternoons and Saturday mornings they see client-owned pets through the walk-in clinic for wellness exams, sick visits, vaccinations and more. In between those duties and sometimes through lunch breaks and after hours, they tend to the health and wellness of the 100+ dogs, cats, various small mammals and occasional birds and reptiles awaiting adoption in the SPCA's animal shelter.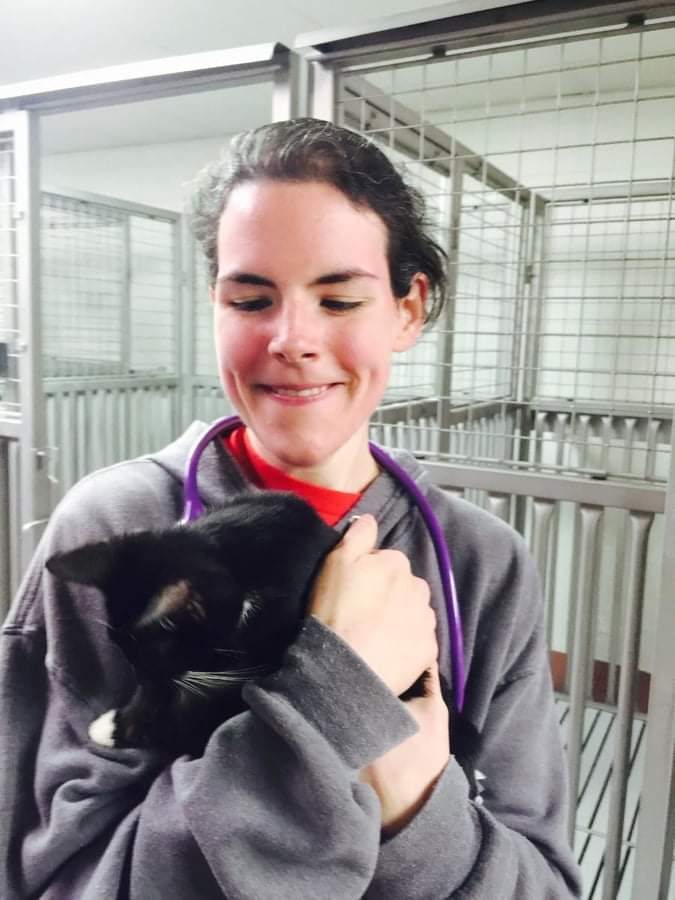 PHOTO: Dr. Lisa James
The daily routine of their job can be extremely fast-paced and very stressful, and the veterinary profession in general is known to be high-stress, physically exhausting and emotionally draining – especially now when the industry is suffering staffing shortages. Despite that, both doctors have a clear passion for the job and a sense of commitment to the animals in their care.
"We both put our hearts into our job every day. My job never ends – I go home and think about the animals at night." Dr. Beaty told me. Dr. James added "I still carry animals with me from vet school."
Like many animal-loving kids, both vets admit that aspiring to become a veterinarian was a childhood dream. Dr. Beaty worked toward that dream by serving as a kennel assistant and manager, a technician in a veterinary clinic and boarding facility, as well as working in an emergency veterinary clinic and a large animal/equine practice, all prior to attending vet school.
Dr. James fueled her dream by volunteering with a local animal shelter in middle and high school where she helped socialize "shy cats." Later through high school and into college, she volunteered her time as a veterinary clinic technician.
After completing veterinary school, Dr. Beaty worked for the U.S.D.A. ensuring the humane treatment of animals in a chicken processing plant. "This is where I found out I enjoyed mentoring people," which is something she's able to continue doing in her current role, with veterinary and shelter staff.
Dr. James worked in private practices after school, mostly with small animals, but one practice saw companion animals as well as farm and exotic pets and she says, "that job made me the veterinarian I am today."
Wanting more surgical and general experience than their current jobs offered, both doctors looked to shelter medicine for the next step in their careers. The shelter animals are more like "our own babies" said Dr. James, and "It's rewarding to see animals that we treated as shelter pets come back later as owned pets."
I asked about their favorite part of the job, and both agreed that besides getting to work with both owned pets and shelter pets, it's the people. In working with the shelter pets, they're able to establish relationships with the shelter staff, and in their close work with the clinic staff, "our VCC [Veterinary Care Center] staff are a family." said Dr. Beaty. As for their clients, she says, "the stories people share about their pets keeps me going. Every animal has a story."
When offered the opportunity to address some misconceptions or let readers know something they may not, Dr. Beaty said she hears often "that we're in it for the money" when in fact, "very often we're trying to discount costs, so the animal gets what it needs." And both vets emphasized the very physical part of their job, that they don't just "play with puppies and kittens all day." Dr. Beaty explained, "We're on our feet all day; maneuvering, restraining animals and lifting heavy dogs."
As for their clients and the SPCA's supporters, Dr. Beaty wants them to know "We appreciate our donors and supporters. We use those donations every day." And she asked that people "Please be kind. We do sometimes have a long wait, but we're trying. Kindness goes a long way, and vets are people too."
The SPCA's Veterinary Care Center is located at 199 Willow Run Road, in Aiken. They are open for walk-in services Tuesday – Friday from 1:00 pm to 4:00 pm and Saturdays from 8:00 am to 12:00 pm. Spay or neuter surgeries can be scheduled by calling them at (803) 648-6864. Visit their website for special holiday hours, a list of services and more at spcavetcare.org.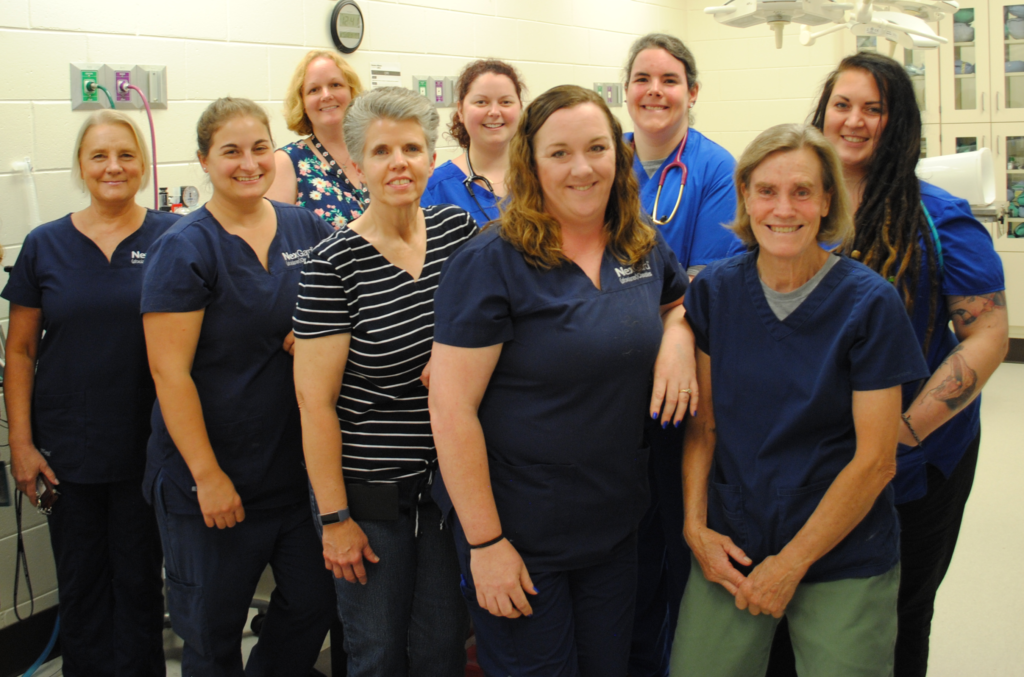 ---
Sarah Neikam has been with the SPCA Albrecht Center since 2012 serving first as Volunteer Coordinator, then Digital Media Manager, followed by Marketing Director and now Operations Manager. Sarah lives in Aiken with her husband Tom and their three adopted cats: Bastian, Luna and Grady plus three "former feral" cats: Willow, Big Boy & Phoebe.
---
The SPCA Albrecht Center for Animal Welfare is a private, nonprofit, no kill animal shelter in Aiken, SC. The SPCA also operates a local Thrift Store ("Where Shopping Saves Lives"), a public, affordable Veterinary Care Center & a Dog Park. It is our mission to improve the lives of companion animals by rehoming abused, abandoned, and neglected pets while fighting for their well-being through vigorous legislative efforts, humane education, and by offering affordable veterinary care for all.
WANT TO SUPPORT OUR HOMELESS ANIMALS?