By: Miranda Ewing, Director of Volunteer Services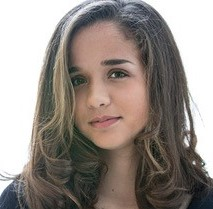 Recently we highlighted a wonderful volunteer, Elizabeth Colon-LaBorde, who began volunteering with us when she was 15 years old. Now a senior in high school, she comes to the shelter several times a week and brings her lively spirit and athleticism to walking the dogs. The
SPCA Albrecht Center
staff know when she takes a canine on a stroll, both young lady and dog come back with a smile on their faces. Visit our
Volunteer Spotlight page
!
Elizabeth understands the impact of these daily walks and says, "I love giving the dogs free time to help relieve their energy. I know it'll be a fun part of their day." For canines whose paws welcome a faster pace, Elizabeth is a great partner since she represents Aiken High in track and cross-country. Not only is Elizabeth an athlete, she is a musician playing cello in several bands including the Aiken Youth Orchestra.
Elizabeth is an example of how our youth can be great advocates for animal welfare and how true the statement "volunteerism is a work of heart." Working with the animals encourages lifelong learning, responsible pet ownership, and problem-solving.
When walking into a cat or dog room, the volunteer notices different temperaments from the beginning. Does the shelter pet eagerly come to me or stay in the corner warily looking my way? What steps to take in order to make the shelter pet feel more comfortable?
No pet is the same, and you begin to realize how much your behavior influences another's when greeting a shelter pet, teaching leash walking, training certain commands, or simply socializing with them.
Becoming a
Junior Volunteer
means being a part of a team with a compassionate focus: animal welfare. The
SPCA Albrecht Center
welcomes 12 to 15-year-olds to join as Junior Volunteers. Through their service in
Cat Socialization
,
Read & Relax
with the dogs, jrSPCA meetings, and special
events
, these students brighten the lives of the shelter animals. In turn, seeing the young volunteers can reignite passion in our adult volunteers.
The spirit of youth is contagious!
Once our community is back to normal, if your child is interested in becoming a Junior Volunteer, here is the next step. Visit the Volunteer section of our website at letlovelive.org to find upcoming Information Session dates and times when you and your child can hear about the SPCA Albrecht Center's mission and how to volunteer. There are many fun ways to help the neglected, abused, and abandoned pets in Aiken!
Miranda Ewing joined the team at the SPCA Albrecht Center for Animal Welfare in February 2020. She has committed her life to volunteering and fostering homeless animals and believes the strength of a community shines when we can lean on each other. A 2012-2013 AmeriCorps alumni and Rescue Volunteer for Team Stinkykiss (a local CSRA animal rescue), she is an advocate for all animals and all people! Her family includes her husband, who knows all critters may find a temporary home with him (even if he's allergic to some).
---
The SPCA Albrecht Center for Animal Welfare is a private, nonprofit, no kill animal shelter in Aiken, SC.  The SPCA also operates a local Thrift Store ("Where Shopping Saves Lives"),  a public, affordable Veterinary Care Center & a Dog Park.  It is our mission to improve the lives of companion animals by rehoming abused, abandoned, and neglected pets while fighting for their well-being through vigorous legislative efforts, humane education, and by offering affordable veterinary care for all.
WANT TO SUPPORT OUR HOMELESS ANIMALS?