By: Claire Roberson, Communications Director
We are living in an uncertain time. A time when it feels like we can't escape from all of the negativity happening around us. That's why it's more important than ever to take the time to count our blessings and be grateful for any ounce of good we can find in our day to day lives. This is why the SPCA Albrecht Center feels blessed as we take a moment to recognize the amazing work that has already been done for the animals this year:
On the shelter side, we have seen a decrease in intakes compared to 2019. This is thanks to spay and neuter efforts (including the community being active in spaying and neutering their own pets) and education regarding pet overpopulation, as well as limiting intakes during the pandemic and providing alternative solutions to rehoming pets. Year-to-date, the SPCA Albrecht Center has taken in 320 cats and 258 dogs (compared to 411 cats and 275 dogs in 2019) – a total of a 15.74% decrease in intakes!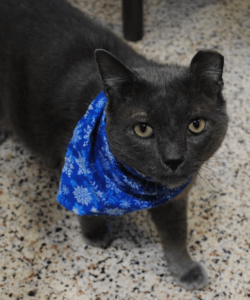 With intakes down, there have been less animals available for adoption at this time, so
adoption
numbers are down from 624 in 2019 to 534 so far in 2020. However, percentage wise, the
SPCA Albrecht Center
has seen an increase in the amount of our intakes being
adopted
(92.39% compared to 90.96% in 2019). Simply, thanks to our amazing
adopters
, this means the animals we are taking in are finding their forever homes quicker!
Animals like Kringle – who had been waiting since December 2019 to find his person. Kringle is an FIV+ kitty, which typically results in long term care at the shelter before being adopted due to misinformation regarding FIV. Kringle was the 'Cat of the Month,' and was featured multiple times on social media in an attempt to find him a home – none of which were successful until his 'Christmas in July' photoshoot. Finally, Kringle was adopted to a loving home on July 15th.
Thanks to our incredible
volunteer
team, over 4,620 hours of service have already been donated to the animals at the
SPCA Albrecht Center
this year! These hours include dedicated, compassionate, hard work at the SPCA
Thrift Store
and
Vet Care Center
, dog walking and training, read & relax, offsite adoptions,
fostering
, cat care and socialization, special
event
aid, administrative help and more. The
SPCA
staff feels incredibly blessed every day to have such a great group of devoted
volunteers
. They truly make the biggest difference in the lives of our shelter animals.
In the Veterinary Care Center, business is booming! We have seen an amazing, overwhelming increase in demand of our services, and we are thankful for each and every one of our clients. It's one of the silver linings of the pandemic: pet owners at home more with their companions and taking the time to seek veterinary care through our Vet Care Center. Though the demand has been challenging, the positive results are apparent. Year-to-date, over 230 community cats have been TNR'd (trapped-neutered-returned), compared to just 150 in 2019 – a 52.33% increase – helping minimize cat overpopulation.
Veterinary staff have seen numerous personal pets with ailments that had not received care for some time, resulting in more intensive care needed. Luckily, these loving owners finally had the time to seek care, and their companions are now living their best, happy and healthy life. And, with a generous grant provided by the Banfield Foundation, the Veterinary Care Center has been able to offer aid to some of these animals in need, whose owners needed financial assistance.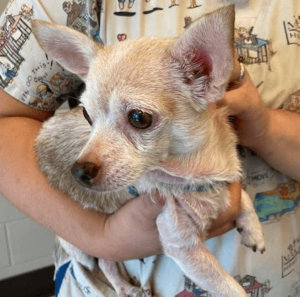 One of these lucky pups was Petey, a 12-year-old Chihuahua with a heart murmur and Grade 4 central disease. Petey's very loving owner was doing the best he could for his companion, but needed financial help with a much-needed dental with extractions. With the help of the
Banfield
grant, Petey is living a more quality life with his devoted human.
The Vet Care Center staff has also been dedicated to educating each and every client about spaying/neutering and heartworm prevention. In May alone, the Care Center performed 285 heartworm tests, with approximately 10-15% coming back positive. The majority of these heartworm positive animals are now receiving the treatment they need to have a healthy heart again.
The Thrift Store – 'Where Shopping Saves Lives' – temporarily closed at the start of COVID-19, but is now back up and running at 1589 Whiskey Road in Aiken. We are so thankful for the shoppers that have come out to support, as the closure of the Store resulted in a nearly $50,000 loss in revenues for the animals. Masks are required for shopping. Open Monday – Saturday from 10am to 5pm.
Despite the adjustments to the new normal, we are so thankful to our staff, volunteers, adopters, Vet Care Center clients, Thrift Store shoppers, Board members, donors and supporters for not forgetting about the homeless and neglected animals in our care during this time. From all of us at the SPCA Albrecht Center, thank you for a wonderful first half of the year. We truly couldn't do it without you!
An Aiken native and self-proclaimed cat lady, Claire Roberson is the SPCA Albrecht Center's Communications Director, working in marketing, grant writing and media correspondence. She attended College of Charleston, where she graduated with a degree in Nonprofit Business and interned with Charleston Animal Society, the leader in No-Kill South Carolina. When not working, you can find Claire hanging out with her 18-pound Maine Coon mix, Anakin.
---
The SPCA Albrecht Center for Animal Welfare is a private, nonprofit, no kill animal shelter in Aiken, SC.  The SPCA also operates a local Thrift Store ("Where Shopping Saves Lives"),  a public, affordable Veterinary Care Center & a Dog Park.  It is our mission to improve the lives of companion animals by rehoming abused, abandoned, and neglected pets while fighting for their well-being through vigorous legislative efforts, humane education, and by offering affordable veterinary care for all.
WANT TO SUPPORT OUR HOMELESS ANIMALS?